Incumbent Madrid, incoming vice president and 65th Senate sworn into ASNMSU office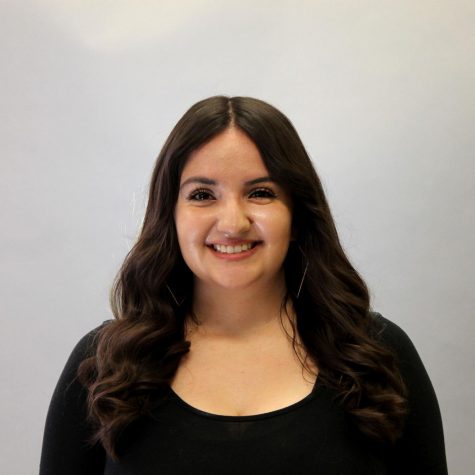 More stories from Aimee Ryan
The 64th Senate of the Associated Students of New Mexico State University met one last time as a senate through an emergency meeting on April 29. Following the final adjournment of the 64th Senate, the new ASNMSU president, vice president and the 65th Senate were each sworn into office during the early hours of April 30.
April 22 was the final official meeting date of the 64th Senate, but there will several bills in second readings and committee of the whole from that date that the senate wanted to return to.
Such legislation that belonged to unfinished business and was reintroduced at this meeting includes legislation to fund a Student Life position's salary, to address sexual assault at the university, to foster closer relations among ASNMSU branches and several pieces of legislation to update executive bylaws.
The bill which took up most of the attention of senate, Bill 25, was reintroduced to the senate floor. Bill 25 was authored by President Pro-Tempore Laura Laemmle and originally was introduced at the April 22 meeting. The bill made its return after being sent to Committee of the Whole on April 22.
When presented at both meetings, the bill sparked controversy among senators, as the intention of the bill was to fund the salary of the data records coordinator in Student Life through a $48,000 appropriation through the ASNMSU Surplus account. On April 22, the account stood at a balance of $741,594.89.
Laemmle said she introduced this bill to the senate because the university needed a way to fund this salary after a calculation error in the position's salary was made in the university's fiscal year budget for 2021-2022. Because the Board of Regents have already approved this budget, the salary needed a source of funding, according to Laemmle.
Laemmle explained to the senate that ASNMSU needed to step in to correct the mistake because if not, the correct amount of money needed to fund the salary would have to be taken from other departments that are also funded by student fees.
Several senators including David De La Cruz, Ehtesham Shareef and Grace Igwe openly stated their opposition to bill, with two of their main opposing points being the belief that ASNMSU should not appropriate money to places that do not directly affect students, especially when such miscalculations are not the fault of ASNMSU, and that ASNMSU should not to be quick to fund any salary position that does not have direct contact with students.
Senator Amy Lucero added that she was originally opposed to the bill when it was introduced on April 22 but changed her stance since then.
Lucero's updated opinion was that the consequence of not appropriating money to the salary would result in the university having to withdraw money from departments that are also funded by student fees that are collected by ASNMSU.
"This money wasn't ours to begin with," Lucero said about the $48,000. "And if we don't cover this, I don't want it to come out of a department that needs that $48,000 a lot more than we do, and that will more directly impact students than if we just gave this."
In a similar fashion, Laemmle said that regardless of whether the bill passes, no additional money would be taken from students nor would it changed that the position's salary will ultimately funded via student fee money. She said that if money has to be pulled from other department's budgets, students will still ultimately be affected by those cuts.
Bill 25 was ultimately passed in a 17-11 vote with the entirety of the bill being discussed for over 90 minutes. The discussion tied to this bill also sparked conversations among senators about debate times after Senator David Hernandez made a motion, that ultimately did not pass, to limit the debate time for the bill down to two minutes.
Hernandez's reasoning included the fact that the bill had already been discussed in the previous senate meeting as well as in various ASNMSU committee meeting and that he did not want the senate meeting to last beyond midnight. Igwe opposed the motion, stating that senators should not be limited in debate and that she felt such limits would not prevent the meeting from lasting past midnight.
ASNMSU's incumbent Mathew Madrid, incoming Vice President Ethan Ortiz-Ulibarri and 65th Senate sworn into office
At 1:42 a.m. on April 30, ASNMSU Chief Justice Zaira Martin swore the newest cohort of student government senators into office.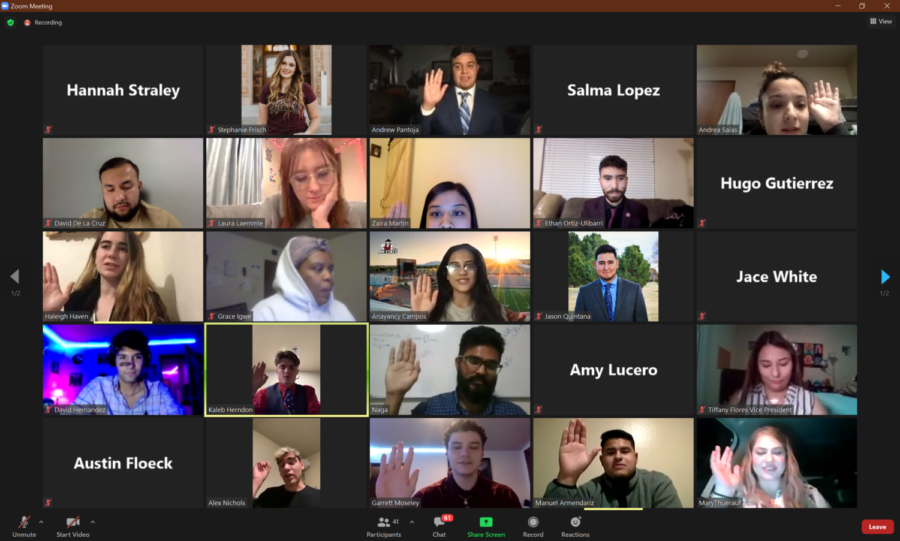 The unofficial election results for the spring semester were released on April 23.
HEY AGGIES! Here are the Unofficial Election results for the 2021 Spring Election! Thank you so much for participating in this election and making it a success. Shout out to Chris Orrantia for winning the Logo Design Contest for Crimson Connection! pic.twitter.com/yMzGya931y

— Associated Students of New Mexico State University (@ASNMSU) April 24, 2021
Mathew Madrid, ASNMSU president for the current academic year, was elected to serve another term the upcoming year. Madrid ran against current Arts and Sciences Senator David De La Cruz. De La Cruz, however, was elected by the 65th Senate to serve as the newest president pro-tempore, succeeding Laemmle as the outgoing pro-tempore.
Ortiz-Ulibarri originally ran against Cameron Powers, a senator from the 63rd and 64th Senate. Powers dropped out of the vice presidential race the weekend before election week, leaving Ortiz-Ulibarri to run unopposed.
Leave a Comment
About the Contributor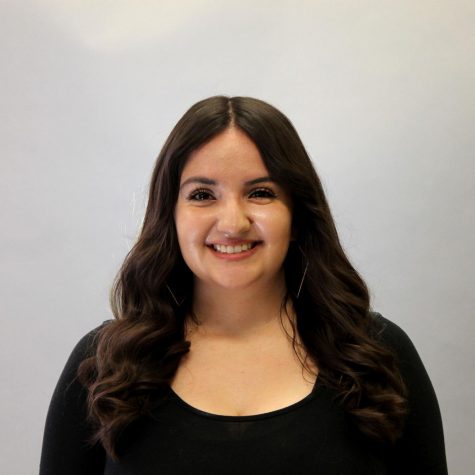 Aimee Ryan, Managing Editor
Aimee Ryan is a senior and Southern New Mexico native entering her fourth year at The Round Up and her first year as an editor. She worked as a staff writer...