NM State comes up just short in instant classic showdown vs. UNM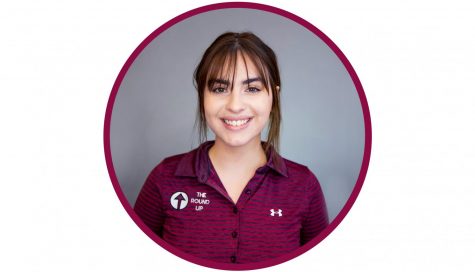 More stories from Mia Tontodonati
In true Battle of I-25 fashion, everything would come down the the waning seconds of the game, and unfortunately for the New Mexico State basketball team, it would be the Lobos making enough plays at the end to prevail in what was a thriller.
Seven ties and twelve lead changes would keep the game in the balance, but UNM would ultimately come out on top 78-77 to drop the Aggies to 2-3 on the season.
"One point short," Head Coach Chris Jans said of the loss. "I thought, if I remember correctly, I think it was 75-71— we just stopped scoring. We couldn't find the basket that late. We had some chances to put it in a situation where it didn't come down in a late game… but unfortunately, we weren't able to do that."
NM State led by as many as nine points in the first half, but the majority of a tight first half would culminate in 39-37 halftime score where nearly all countable stats were dead even.
Coming out of the break, NM State initially struggled to score, especially from distance, where they shot 3-of-17 in the first half, but C.J. Bobbitt was able to break that streak with a three just two minutes in.
This wouldn't put a complete end to NM State's shooting woes, as the Aggies only made seven out of 33 three-pointers and held a field goal percentage of 43.8 percent the entire game. UNM wasn't much better from the field, but did shoot 60 percent in the second half, when they needed to make shots the most.
"I was fine with probably of those three's maybe one or two of them, and I think we took a lot of bad shots," Jans said of his team shooting. "I just I don't know. At some point, Shawn Williams can't go one for six, and Terrell Brown can't go one for eight, and I'd go on and on down the line I mean. At half time I think we were three for seventeen if I'm not mistaken and you know talking to the coach it's like, at some point the balls going through the net right. The balls gonna start falling it's gonna become contagious, you know, and everyone's gonna make a basket.
"I thought when C.J. Bobbit made that three, okay here we go because he's been really shooting it well and struggling in the games and I thought as a team we would rally around that," Jans continued. "And other guys would get it going a little bit and unfortunately we just… we're not shooting the ball very well. We're just not."
Despite that, and multiple turnovers in the final minute of a one score game, NM State had ample opportunities to win it.
In the final seconds of the game, the Aggies forced back-to-back UNM turnovers to give themselves possession after possession with a chance to pick up the go ahead basket. Ultimately, Jabari Rice got a relatively open three from the corner, but to no avail. Shunn Buchanan had a chance from half court as time expired, but the contested look would clank off the backboard and be the end of NM State's comeback effort.
"You know I thought it was a pretty clean look," Jans said of Rice's shot. "He's been shooting the ball very well- in practice, and he came off today where he made some three's late. You know I thought it was a pretty clean look — I thought it was going in. Unfortunately, it didn't, but from where I sat, I thought it was a pretty good look at the basket."
New Mexico State will spend the next week at the Cayman Island Classic, where NM State will get a chance to kickstart their season with three games in a three day span, but as of right now, the Aggies are far from where they want to be.
"I just know that this is new territory for us. It's new ground for me as a head coach," Jans said of the tournament. "The streaks we've had are over. We're under 500 for the first time since we've arrived if I'm not mistaken, so we've got a lot of soul searching to do, and all I know what to do is get back to work and roll our sleeves up and try to get better.
"Right now, we're not built for three games in three days," Jans continued. "We're just not. So It'll be a heck of a challenge for us, there's a lot of good teams over there certainly a lot of travel involved and probably more importantly where we're at in our head and emotionally as a basketball team and how do we get out of this rut."
Leave a Comment
About the Writer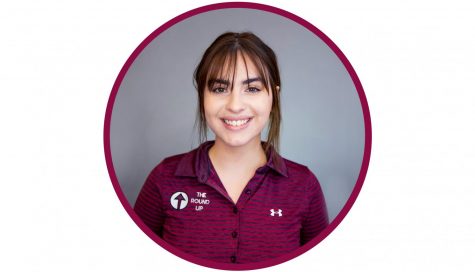 Mia Tontodonati, Sports Writer
Mia Tontodonati is in her freshman year and her first year at The Round Up. She attended Las Cruces High School and participated in Bulldawg Broadcast...