NM State volleyball comes up short against BYU at NCAA Tournament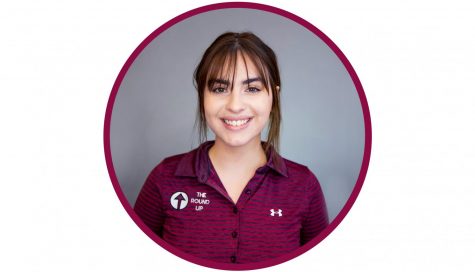 More stories from Mia Tontodonati
The New Mexico State volleyball team's WAC Championship season came to a close Friday night after falling to Brigham Young University in the first round of the NCAA Tournament in straight-sets (7-25, 23-25, 19-25).
The Aggies started started things out with an immediate ace by Natalie Mikels, but BYU didn't let NM State pick up any momentum from it, establishing their middle early, making it a point-for-point battle. This was until the Cougars slipped past middle blocker Megan Hart and added on to it with a point off of an NMSU net touch.
NM State's nerves seemed to take over them as they fell behind 12-6, allowing the Cougars to overpower the Aggies for the rest of the set. BYU managed to control the serve, gaining a run of 16 points from their freshman setter Whitney Bower. The Aggies managed to get a point in when Bower made a service error, but it still wasn't enough, and BYU's Kate Grimmer pulled back a kill assisted by Bower to win the point and the first set.
NM State kept things tight throughout the second. The Aggies fell behind 19-15, but showed some fortitude, storming back with a furious run highlighted by two blocks in a row strung together by Megan Hart, and Savannah Davison.
The Aggies seemed to gain some momentum toward the end, pulling even with BYU at 21-21 with a piece courtesy of a block assist by Lia Mosher and Hart. Toward the conclusion of the set, Davison gave the Aggies some hope when she got in a kill, but BYU returned that with a kill of their own. NMSU would follow this with two more kills, but BYU continued giving high powered offense and in the end, giving them a 2-0 lead.
In the third set, the Aggies seemed to settle in more, making some exceptional adjustments and pulling out an ace to open up set number three. NM State was showing some good looks early, leading 3-1 off some aggressive swings from Ashley Anselmo along with Davison. The Aggies at this point were showing BYU why there made it to this tournament in the first place, pulling out an 8-5 lead, utilizing their outsider hitters to slide just past BYU's blockers.
NMSU let their guard down during a five point run by the Cougars, falling behind 18-13. BYU continued this with two aces in a row, but a service error put Julianna Salanoa at the line, and she was able to give NMSU back to back points, pulling it to 20-15.
The pattern of letting balls drop continued for NM State as they entered the final minutes of the game, allowing BYU to capitalize off it and advance the score to 22-16. Davison came right back with a kill and kept NM State in the game for just a little longer, but the Cougars ended this by pushing through and winning 25-19 moving on to the second round.
While the Aggie's season may have come to a close the last for NMSU this season, a year featuring a 19 match winning streak with a 27-4 record with a WAC Player of the Year award coming home with Hart should go down as one of the best in program history.
Leave a Comment
About the Writer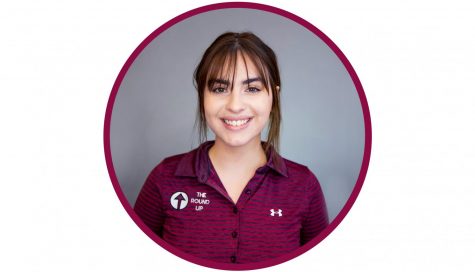 Mia Tontodonati, Sports Writer
Mia Tontodonati is in her freshman year and her first year at The Round Up. She attended Las Cruces High School and participated in Bulldawg Broadcast...