Aggies make easy work of Texas Southern on opening day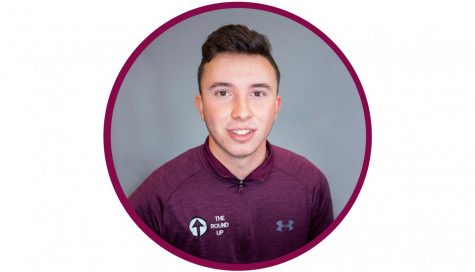 More stories from Anthony McKenna
The pride of Presley Askew Field made their much anticipated return home Friday afternoon as the New Mexico State basse all team shut down Texas Southern for an 11-2 opening day win.
NM State raked in 13 hits, along with nine runs in monstrous sixth, seventh and eighth innings, highlighted by two home runs reminiscent of last yearns top ranked offense.
Texas Southern got things going with a home run over the left-center field in the top of the third inning, answered instantly by the Aggies in the bottom of the inning with an RBI from Noah Haupt.
First year head coach Mike Kirby weighed in on how the squad performed out the gate to open up the season with a win.
"I was really proud of the guys tonight. I think once they loosened up a bit — you get those first game jitters — it'll take you at least your first at-bat," Kirby said. "[After] about two to three innings, I thought they settled in."
The top of the fifth called for buttery-smooth Aggie defense, where All-American shortstop Nick Gonzales made a diving play to end the Tigers' hopes of answering, pushing NM State over the top in the latter half of the inning, where they upped their lead by one from a Zerek Saenz RBI.
"Baseball's really a game of momentum, losing it and getting it back," Kirby said. "That's how it was the first three innings… I'll never fault the guys for playing aggressive, and thats what they were doing, so I'll hang my hat on that."
The Aggies came out hot after allowing another shot over the fence in the top of the sixth, where they found themselves getting two runs off two TSU errors, putting them up 4-2 heading into the seventh.
"We had some success, we left a couple guys in scoring position," Kirby said. "Overall, it's a constant grind, I was really more impressed with the pitching and the defense."
Jason Bush knocked the first Aggie ball over the fence early in the seventh inning — enough het to let Nick Gonzales get an RBI double to set the theme of the rest of the inning, where Aggie offense put up three runs to go up 7-2 on the Tigers. Gonzales also left the bottom of the eighth with a three run bomb to left field to add insult to injury, and four RBIs under his name.
"I was excited for Nick, he has a lot of work put in there. J-Bush, he had a great fall and I thought he really caught outstanding tonight," Kirby said. "[Bush] got some count leverage and got a 2-0 fastball and got some good extension out there."
Noah Haupt, Austin Duffy, and Zerek Saenz all had absolute days—going three for four apiece along with a Haupt triple and combined six total runs for the squad.
Starting pitcher Chance Hroch and reliever Mitchell Allen went for a combined five strikeouts, as well as only allowing two walks and two earned runs.
Aggie baseball will be back in action against the Tigers Saturday and Sunday to continue the season opening series.
Leave a Comment
About the Contributor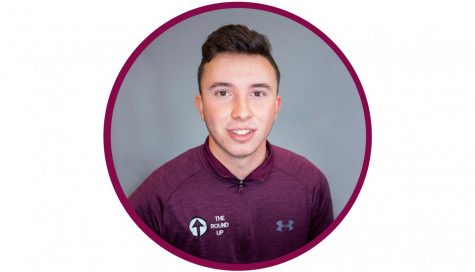 Anthony McKenna, Sports Writer
Anthony McKenna was born in Las Cruces, New Mexico. After living in multiple locations around the Southwest, Anthony decided to transfer to New Mexico...