ASNMSU addresses student travel, says university will not close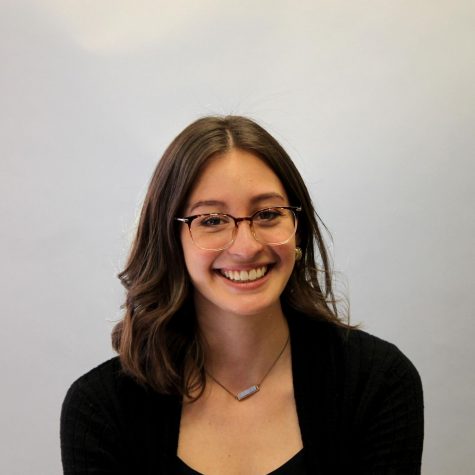 More stories from Alanna Herrera
This story was updated at 9:31 a.m.
Associated Students of New Mexico State University President Evan Conner released a statement March 12 advising risks among personal and academic travel and addressed university closure.
"New Mexico State University highly suggests that all students consider the risks associated with personal domestic travel in areas where there has been a significant incidence of COVID-19," Conner wrote. "Anyone who has traveled via commercial carrier in the last 14-days should register their travel on the University travel reporting portal."
Conner also addressed the restrictions put into place regarding travel for student organizations and advised that students who believe they have come into contact with the virus should call their health providers to discern further action.
According to the letter, student organizations are encouraged to participate in gatherings and events outdoors to implement social distancing.
As for the NMSU's closure, Conner notes that campus will remain open.
"As we start packing for spring break, we want students to keep in mind that the University will not be closing," the letter reads. "Commit to healthy practices while on vacation. If you're sick of the ABC's while washing your hands with warm soapy water, the Aggie Fight Song will also work."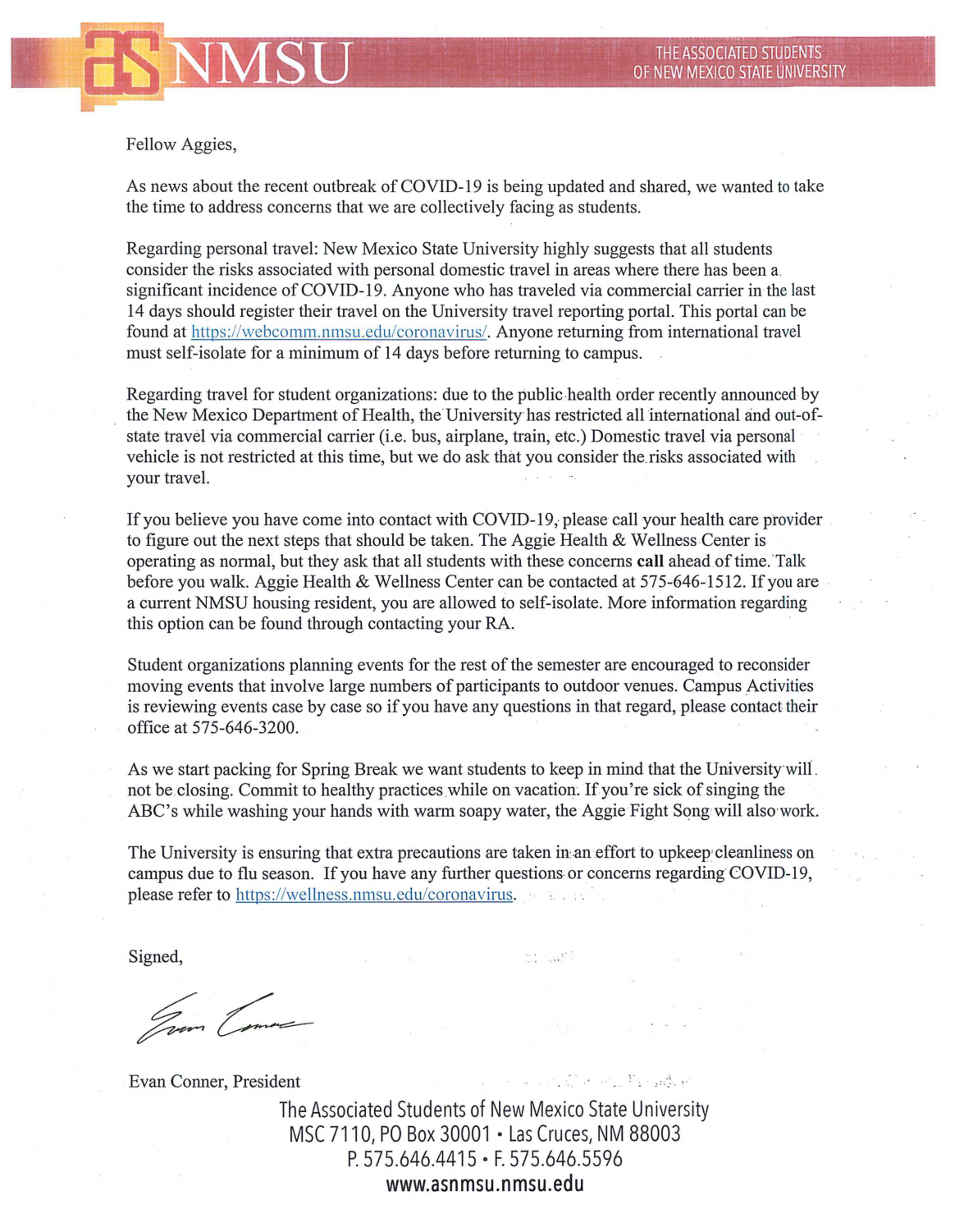 Around the state, all public K-12 institutions have halted instruction from March 16- April 6 according to instruction from NM Public Education Department to contain the spread of COVID-19.
On March 12, NMSU Athletics faced the cancellation of the Western Athletic Conference Tournament and the cancellation of the NCAA spring tournaments.
The Writing Center at NMSU has moved online until further notice due to COVID-19.
"There will be no in-person consultations, use of our computer lab, or presentation of workshops until the situation with COVID-19 is in a safe place for all people who use the Writing Center. The Writing Center is a high-risk space for viral communication due to the close proximity involved in a tutoring session, as well as the sharing of materials and surfaces, such as papers, computers, and desks. We see hundreds of students each week from all across campus, and in order to protect both the consultants who work there and the students who visit us, we will need to remain closed," Director of the Writing Center, Gina Lawrence said in an email.
Chief Security Information Officer John C. Roberts also reminded students to be weary of cyber-criminals using COVID-19 email subject lines for phishing and scams.
"True to form, cybercriminals and spies are wasting no time trying to capitalize on the coronavirus crisis by flooding NMSU email boxes with spam containing infected attachments and click bate leading to malicious websites," Roberts said via email. "They wish to use the drive to stay informed, care about the plight of others as well as our concerns and fears, to take advantage of us."
Roberts said to take extra precautions surrounding unsolicited emails with "COVID-19" or "coronavirus" in the subject.
COVID-19 was declared a pandemic March 11 by the World Health Organization, and has since reached 1,215 cases in the US and 36 total deaths nationally according to the Center for Disease Control. Around the globe, the death toll has reached 4,613 and confirmed cases reach over 120,000 according to WHO.
For further information regarding NMSU and COVID-19, visit https://wellness.nmsu.edu/coronavirus-2019-ncov/.
Leave a Comment
About the Contributor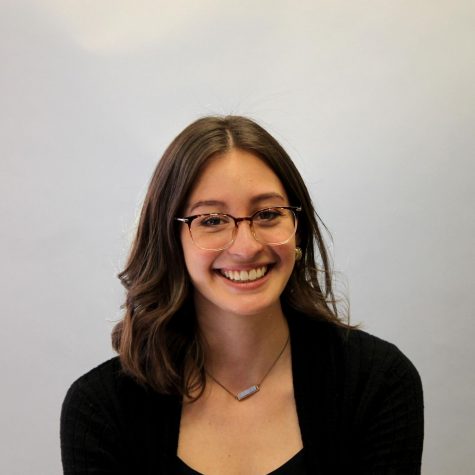 Alanna Herrera, Editor in Chief
Alanna Herrera is entering her fourth year at The Round Up, taking on her second year as Editor-in-Chief. She is a senior with a passion for storytelling...