Lifted mask mandate at NMSU: Like night and day?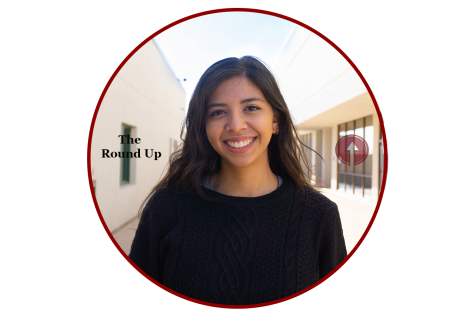 More stories from Dayana Villanueva
After 18 months since the return of in person classes at NMSU, Chancellor Dr. Dan Arvizu sent an email lifting the mask mandate on Thursday, February 17th, which followed the lifting of the state-wide order of lifted requirement of wearing a face covering in most indoor spaces announced by New Mexico Governor, Michelle Lujan Grisham.
Guil Agney, is a Music Performance student who is happy to take off the facemask inside the classroom. "In orchestra, you need to see facial expressions; without masks, it's just like night and day." Guil said.
But some classmates might not share the same feeling, and a Charge.org petition has been created for students and faculty alike to sign, with the intent to reinstate the mask mandate indoors at NMSU.
This policy change may surprise some students that think they are putting themselves at risk. "I still think it's too soon. Some students contrast the downside of missing connection in the classroom in comparison to the health measures that masks provide protection of COVID-19 by wearing a face-mask indoors.
"There are still cases all over, and honestly, it's just giving people like this false sense of safety, that they feel safe enough to take it off when the risk is still there," Sigmund Aranda said, who is a CMI student.
Another recurring consensus among students who are excited for this policy change, is that they struggled with the muffle that's caused when wearing a facemask.
Mechanical Engineering student Ben Keller recognized that it's one of the issues he struggles with. "It's easier to hear foreign teachers when you can read their lips too, there's a lot of nonverbal communication that happens… And there's the fact that you can express points without saying them. And I feel like a lot of that is lost," Keller said.
Lawrence LePlue, Professor of Economics at NMSU, said students have approached and asked him if it was possible to take off his mask while teaching because it was difficult for them to understand him due to the muffle of his mask.
In a survey conducted among 40 NMSU students, half of them agreed it is too soon to roll back the health measure. However, the result is also divided on the 32% of students that agreed it is the right time to lift the mask mandate, and the 18% rest would prefer that this mandate should have been lifted a long time ago.
Consequently, 60% of those surveyed voted to continue using the mask indoors regardless of the policy, following the 62% of people who value the protection that provides facemask use. Which is contrary to the 40% students who love the quality of interaction in the room more.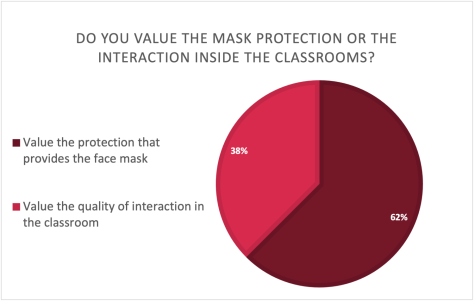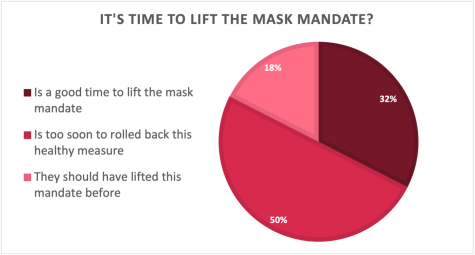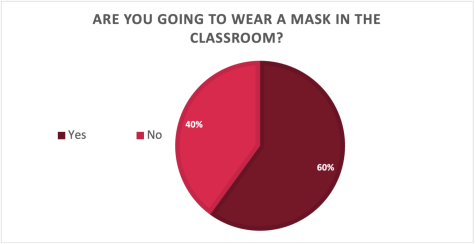 An anonymous profile on Reddit, created a petition on Charge.org to reinstate the mask mandate indoors and shared it on the NMSU subreddit, at (r/nmsu).
The username u/Nmsustudent45 created the petition, claiming it is irresponsible to lift the mask mandate on campus with such high county and state COVID-19 rates.
"A lot of my classmates and I are already stressed as it is because they stick us in classrooms with no social distancing," the user said. As of the time this is published, the petition has nine signatures.
NMSU COVID-19 Project manager Jon Webster recognizes there is a lot of anxiety right now on campus since it is the first time in the pandemic that it has been lifted during a major semester. "We just fall in line with whatever the state public health order; that's the reason we lifted this last time, and that's the reason we lifted during the summer of 2021." Webster said.
According to Webster, 85% of vaccinated students update their vaccination status and around 96% compliance system wide. Still, those numbers will change quickly for the update on the booster short.
This changed policy on the mask mandate may come as a surprise for many, and it may take some time for students to adapt. Chancellor Arvizu asks for patience and kindness to each other as NMSU remains vigilant as they continue to monitor the situation. To register for a vaccine and make an appointment, visit VaccineNM.org and send your questions to [email protected].
Leave a Comment
About the Contributor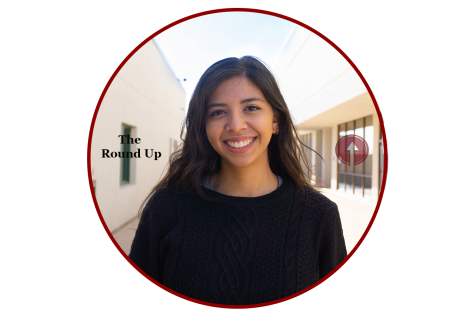 Dayana Villanueva, Staff Writer
Dayana Villanueva is a senior at New Mexico State University and entering The Round Up as staff writer and multimedia specialist. With a background as...