Hookup Culture at Universities: Everybody plays a role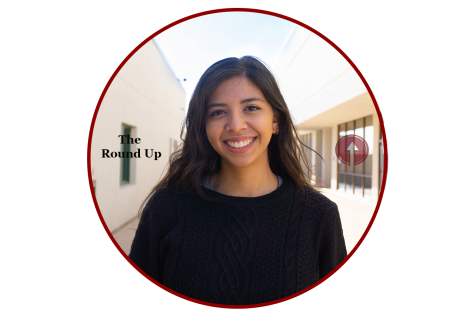 More stories from Dayana Villanueva
Hookups during college can be as fun as it sounds and as just as frightening for the dating script and the risks that are involved.
Current college classrooms are mostly full by those considered to be in Generation Z (born between 1998 and 2012). They are the ones adapting to dating apps like Grindr, Tinder, and Bumble to meet potential partners for a one-night stand or finding "the one." The academic research comes from the book, 'The Current Collegiate Hookup Culture' by Dr. Paul Aditi, digs deep into Gen Z and their hooking up "sexual on dating apps, sexual behaviors, risks such as STDs or sexual assault, and LGBTQ+ students hooking up experience.
 What is 'sexual script'?
 Sexual script is like reading a play, where each person plays a set of actions within a scenario according to the social norms. For example, in heterosexual relationships script, it is like a giving rule in society that usually the man is initially to ask out the woman. Sexual script details "who", "what", "when", "where", and "how" actions are happening with any specific context.
The Current Collegiate Hookup Culture book suggests users for dating apps have increased, but face-to-face organic meeting people is still the most popular.
Where do students meet potential hookup partners?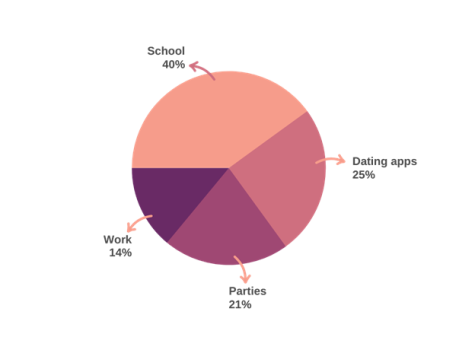 Overall, Gen-Z is not as sex irresponsible as thought, 69% of students use protection during hookup sex, 62% have 1-5 hookup partners and hook up with the same person once a month or once every 2-3 weeks according to Aditi's studies. To dig into NMSU student's hook-up script, psychology grad student, Ashley Wu shared her dissertation about Online Dating Sexual Script. Most of the students interviewed at NMSU are looking for a traditional relationship according Wu research. She concludes that the conservative relationship culture at New Mexico State University, may influence a lot by the Hispanic culture.
"The culture around this area (Las Cruces) has many Hispanic and Latino cultures. So, if we are talking about relationships among Hispanics, it follows a very traditional gender norm of masculinity and machismo. There is an active role where men play a role and women play another role," Wu said.
Breaking gender-stereotypical norms in any University across the United States might be inappropriate for conservative students who see hookups as a perversion of the traditional courtship, but Dr. Paul addresses this belief:
"A look into the origins of dating reveals that dating and hooking up may have more in common than we have been conditioned to believe."
Flirting, falling in love and hooking up is a spectrum in which Gen-Z is revolutionizing, some call it fear of commitment and others say it is learning to know oneself before committing to another individual. Aditi's book explains that 60% of students who met on dating apps were queer, gay, lesbian, or bisexual.
Ricardo Melendez is a NMSU student, who identifies as a gay male, says meeting people of his community in person is challenging because less than 10% in the U.S. identify as gay or bisexual. Dating apps and websites are spaces to express people's sexual identities and engage with potential partners in the LGBTQ+community.
"At first, I wanted a relationship, but I've also had friends and opportunities for hookups. So, I have had the opportunity of everything," said Melendez.
Every student has a particular challenge while dating or hooking up, including being aware of their own safety when finding a partner. Dr. Aditi's academic research detail that 1 in 4 men reported sexual assault during hookups. Wu's research found that heterosexual women typically mentioned in their script about worry when going on a hookup and taking safety precautions for hookups, and gay men's script includes getting tested for STI's.
Gen Z in college has a constant developing setting, they are growing up with diverse options and they are trying to figure out their own rules. But also, Gen Z is better equipped to navigate the spectrum of dating apps by being more culturally aware and sexually responsible while hooking up.
Leave a Comment
About the Contributor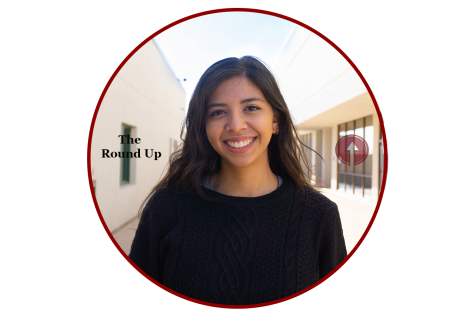 Dayana Villanueva, Staff Writer
Dayana Villanueva is a senior at New Mexico State University and entering The Round Up as staff writer and multimedia specialist. With a background as...