Alma's Kitchen: A bite of authentic Mexican food on campus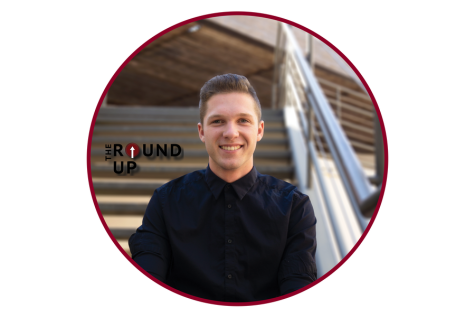 More stories from Elijah Nix
Locally owned campus restaurant, Alma's Kitchen, continues to serve NMSU's community while looking for ways to expand its reach on campus.
Alma's Kitchen originally opened ten years ago at the St. Genevieve Parish Hall, but unfortunately closed due to the COVID-19 pandemic. Since February of 2021, the restaurant has been reestablished inside Frenger Food Court and serves traditional family recipes. 
According to Arik Ruiz, the restaurant's owner, "The main reason we opened this restaurant was because we [my mom and grandma] were having problems right after I graduated college, so my mom and my grandma–we [all] decided to open a restaurant so there wouldn't be that much pressure on me," he said.
Alma's Kitchen serves traditional Mexican food such as burritos, enchiladas and tacos.  

"It's family recipes, so they've been passing from my grandma to my mom and then my mom to me, so it's super cool to keep the tradition," Ruiz said.  
The restaurant also sells traditional chilaquiles. "Here on campus, I'm the only one who sells the chilaquiles with the traditional-style… with queso fresco, sour cream, and everything that goes in the chilaquiles," Ruiz commented, "And a lot of people–especially when they're Hispanic or from Mexico–automatically they're like, 'Oh! I didn't know you had this!'," he said.  
"[Alma's Kitchen] reminds me of one of the restaurants I had back home [in Alamogordo]," said Josh, a student customer, "It's probably the only restaurant here [on campus] that has spicy food." 
Being a campus restaurant is special to Arik, as it is an opportunity to connect with students and help them get plugged in where they might need it, especially after the pandemic caused so much separation. Alma's Kitchen is not just about making money. It is about having a positive impact on the students on campus. One example of this philosophy in practice is the giving of free burritos to students who do not have money to pay for them. 
"When they don't have any money, I provide free burritos for them, and usually in a typical day uh it's like four or five people," Ruiz stated. "Back in the day when I was in college, I was a struggling with money and things like that. So for me, I know how it feels to not have enough money to eat. So, for me to see that student–it's like you're bringing back memories," he said.

According to several student customers of Alma's Kitchen, the restaurant is certainly a wonderful place for food. 
"It's on campus, they have very reasonable prices and their food's really good," said David, a student customer. 
Merin, another student customer said, "It's on campus, which is good, so when I don't have time, I can go there and get something that I like, [and] it's affordable." 
Another one of the Kitchen's satisfied customers is Dr. Ana Lòpez, the Director of Chicano Programs at NMSU. According to Lòpez, restaurants like Alma's Kitchen are important not only for NMSU, but for Las Cruces as a whole. 
"The presence of a local business owned and ran by Latinx folks is also important for our university as an institution under the Hispanic and minority serving designations," López said.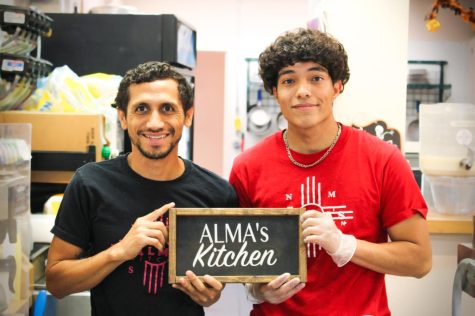 "I appreciate what the Alma's kitchen team do for our students, not only keeping them fed but supporting them when they struggle," they continued, "Mr. Arik has done amazing work reaching out to the faculty and staff to remind us of his commitment to the NMSU community." 
Despite these positive reviews, one of the problems Alma's Kitchen currently faces is lack of publicity. According to Ruiz, many people are unaware that Frenger's Food Court is a fully fledged food court.
"Every day we have a new person who's like, 'Oh, I don't even know that you guys had seats!'" Ruiz commented. 
Along with Alma's Kitchen there are two other restaurants in Frenger: The Mix and Coffee Haus. According to Ruiz, all three businesses lean on one another for support. 
"We're super close, we help each other… [customers will] buy a breakfast burrito and then they go to get a coffee [at the Coffee Haus], and then for lunch… I invite them to go to [The Mix]."
Even amidst challenges, Alma's Kitchen is looking for inventive ways to expand its current reach. One of these ways includes potentially selling food at football games and other campus events, which negates the need for multiple locations while still providing meals with priority. 
Alma's Kitchen also has established a loyalty card program, where if a person buys 10 burritos, the 11th one is free. 
Alma's Kitchen also provides catering for different departments, bands, and delivery anywhere on campus as well as accepting Aggie Cash and Dining Dollars.
To get in touch with Arik Ruiz, call (575) 644-1931, and be sure to follow @almaskitchen_nm on

Leave a Comment
About the Contributors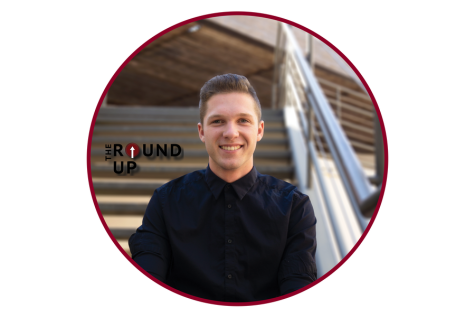 Elijah Nix, Lifestyle Writer
Elijah is working his way through his second year at NMSU and his second year at The Round Up as a Lifestyle Writer. He is currently pursuing a major in...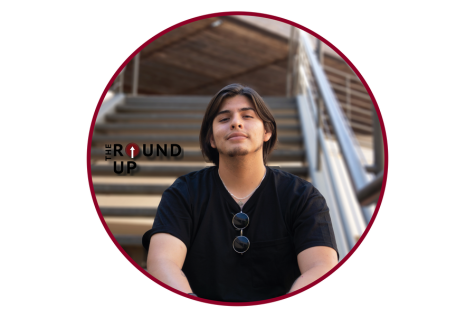 David Castañeda, Multimedia Specialist
David Castañeda is entering his first year as a multimedia specialist at The Round Up. This is his first year studying at New Mexico State University...