NM State men's basketball claim 95-70 I-10 rivalry win
More stories from Joseph Settle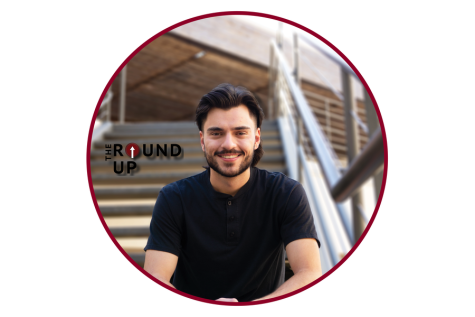 More stories from David White
The New Mexico State University basketball team started their season with a bit of a rocky start including a loss to the UTEP Miners earlier this season. Standing at a record of 2-2, the Aggies found wins over Western New Mexico, New Mexico Highlands, and San Diego University early in the season, but dropped games to UC Irvine and UTEP. The Aggies looked to get back into WAC contention with a win at the Pan American Center in a rematch of their previous bout. This time the game wasn't as close, and the Aggies led the entire way finishing it up with a 95-70 win. This Greg Heiar squad was able to hold the lead for approximately 36 minutes of the entire 40-minute game.  
NMSU was able to hold the Miners to just 17% shooting from deep while the Aggies hit on 45% of their shots. NM State was able to get off to an eight-point run following the opening bucket from UTEP, which would be the first lead for UTEP. The Miners would get the lead again when former Aggie Mario McKinney hit a fastbreak bucket to go up 12-11 before Kyle Feit hit a three to put the Aggies up again. Utep would soon tie the game at 16 but again the NM State was able to go on a run 10 straight to go up 26-16.  
The half would end with Xavier Pinson hitting a point-back layup to grow the Aggie led to 13 with the score of 44-31. Anthony Roy also had himself a half scoring 15 points.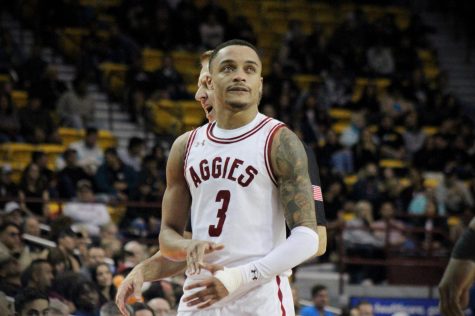 Keeping their hot hand, NMSU came out to a 10-2 run to take a 54-33 lead 2:47 into the game. It only got worse for Utep when Washington, Pinson, and Gordon would get six straight points to grow the lead to 21. This would not be their largest lead of the game, however, as NMSU would pull ahead by 25 points off of a Deshawndre Washington three-pointer with 23 seconds left in the game. Utep would score 15 to pull within 11 but too late of an effort to make a change. 
The final shot of the game would epitomize the outcome of the game; sheer and absolute dominance. NMSU's Tae Hardy and Mario McKinney Jr. would lead the Aggies in scoring, with 24 and 22 points respectively. McKinney, who came off the bench in this game, also led the Aggies with 7 total rebounds and 1 steal, along with 7-13 shooting. 
NM State now extend their all-time series lead 21-17 with another home win over the UTEP Miners. After this rebound win, the Aggies will host yet another home game, this time against Simon Fraser University. The NMSU men's basketball team stands at 3-2 on the season and 2-0 in home games, with a pursuit of 3-0 on Monday, December 5, at 7 PM.
Leave a Comment
About the Contributors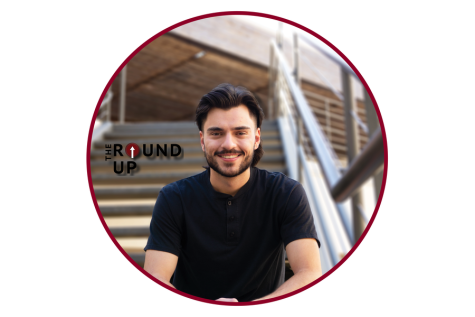 David White, Sports Writer
David C. White is entering his second year at The Round Up as a Sports Writer. White is a senior majoring in Physical Education with an emphasis in secondary...
David Castañeda, Multimedia Director
David Castañeda is starting his second year here at The Round Up, this being his first year as Multimedia Director. This is his second year at New Mexico...