New media building opens avenues for more campus collaboration between NMSU and DACC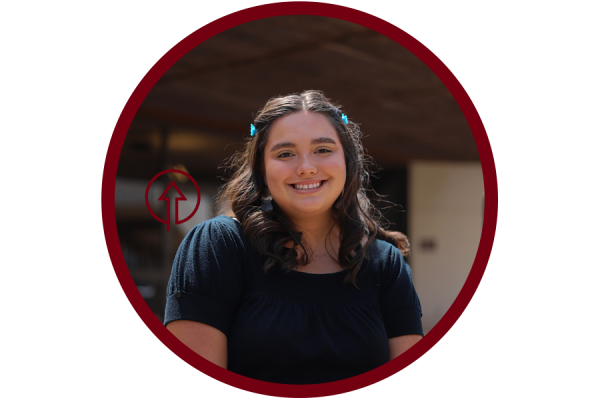 More stories from Claire Quintana
Doña Ana Community College hosted a groundbreaking ceremony for their new Creative Media Technology building on Tuesday, Mar. 28, 2023, at Arrowhead Park. The ceremony involved a Native American land blessing and speeches from guests like New Mexico governor Michelle Lujan Grisham, and the Arrowhead Park director.
Before the ceremony began, there was a recognition of the Native American lands; where a blessing was given to honor the land of the people that have used it before, and those who will use it after.  DACC President Monica Torres then gave a welcome speech to thank and honor distinguished guests, students, and faculty.
Torres mentioned in her speech that the new CMT building is only the beginning of an eight year project to create a DACC and New Mexico State campuses that hosts all creative media and tech, which she referred to as 'Film Street.'
"My deep thanks to former and current faculty and staff, donors and businesses and industry, government partners who have supported this program and will support this program in the future. This will be a new era for our CMT program. This building will be the new foundation for the next part of that program," Torres said.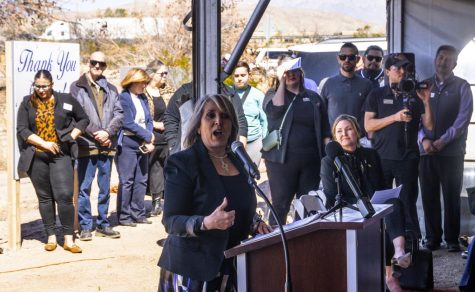 Lujan Grisham's speech detailed that the new building and collaboration will be a $40 million project but will pay off because the new building and campus will be a place for innovation to grow.
"I'm just excited about coming back here to see what we celebrate next. Congratulations, this is monumental. I'm very proud of New Mexicans [and] for New Mexicans," Lujan Grisham said.
The cabinet secretary for the New Mexico Economic Development Department, Alicia Keys, briefly spoke on the variety of opportunities that the CMT building will bring for the Spanish film industry.
"Being in the borderplex, Las Cruces can and already does [produce work] for English language production. And still, there is a massive opportunity for the community to support Spanish language production…which is becoming [a] main priority," Keys said.
She also pointed out that Las Cruces is a fruitful place for film-making students because in addition to the CMT building, there are also "three new qualified production facilities," which will be able to provide paid training opportunities to film students.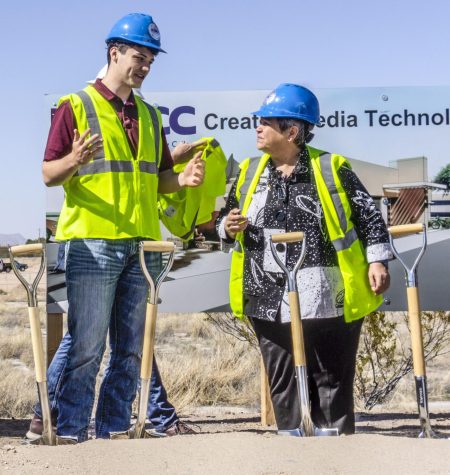 "I have no doubt that this unique trio of education and training will launch Las Cruces into international spotlight as a place for world class training and a way to work in one of the most prosperous film industries," Keys said.
Arrowhead Park Director Wayne Savage similarly gave a speech at the groundbreaking, where he mentioned how he's not only ecstatic about the new DACC building, but he's also excited for the longer project that will turn the area into Film Street.
"So we are here today to celebrate this new Creative Media Technology building for DACC. It's an exciting project in and of itself. And we're also excited about the long held vision that we've had…that many of us have had individually for this creative campus," Savage said.
Leave a Comment
About the Writer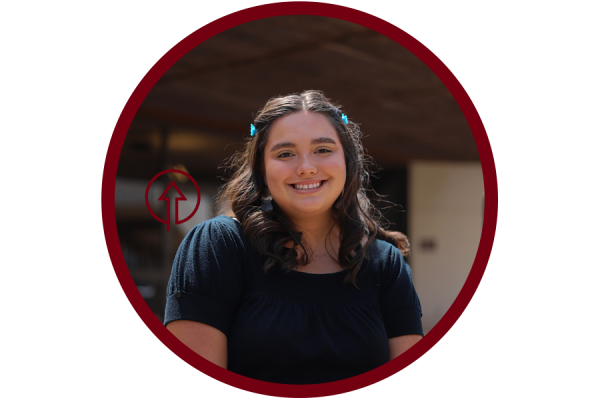 Claire Quintana, Managing Editor
Claire Quintana is entering her second year with The Round Up as the Managing Editor.  She is studying Journalism & Media Studies with a minor in...