First annual Honors Art Collective opens at NMSU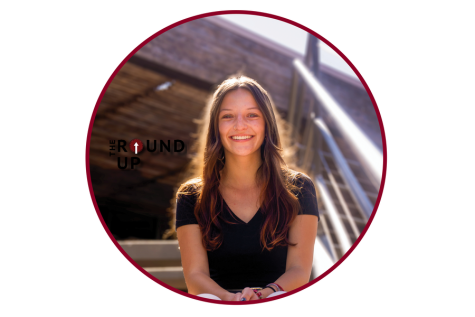 More stories from Riley Robertson
Showcasing the artwork of many top New Mexico State University students, the inaugural Honors Art Collective opened on Friday, April 14 at the William B. Conroy Honors Center. Organizers of the show accepted submissions from both NMSU Honors students and Crimson Scholars, regardless of their major or discipline.  
The exhibition's curator, Natalia Martinez, is graduating in May with a degree in Art History and Museum Conservation. Her main goal in curating the art show was to celebrate the artistic abilities of "academically motivated students" and to allow them an opportunity to demonstrate their passion and creativity.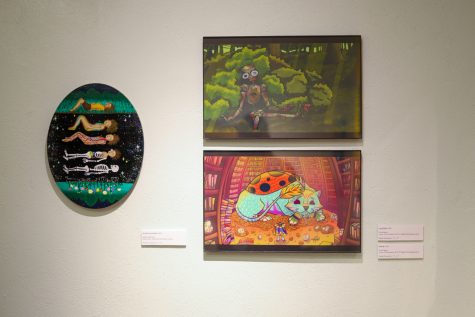 Martinez grew up in Santa Fe, New Mexico, where she was surrounded by art and went to museums often as a young girl. She was always fascinated by art curators and the work that went into composing an exhibition, so she said she was honored to have been chosen to take on the position of curating the first art exhibition hosted in the honors college. 
"It means so much to me that we had such a large turnout," Martinez said. "Being that it's the inaugural exhibition, hopefully it shows all students at NMSU that they have the chance to have a welcoming exhibition team that can show who they are and how they express themselves artistically." 
Annie Ersinghaus, a digital filmmaking major, is also graduating in May with honors. She originally submitted one of her films to be featured in the exhibition, but due to a lack of space and technology in the honors building, Martinez asked her if she wanted to perform one of her pieces instead. 
Ersinghaus spent a semester abroad in Australia, where she kept journals of her experiences that inspired her to write poems. About an hour into the Collective's opening night, she performed several of her poems while playing the guitar. Her acoustic poetic performance was just one unique art form featured in the show, as students from all backgrounds and across all mediums were able to submit their work.   
"For a lot of these people, maybe art is their major, but a lot of them are different," Ersinghaus said. "It's so great to still have an opportunity, even if it's not your major, to show your art in any form it comes in."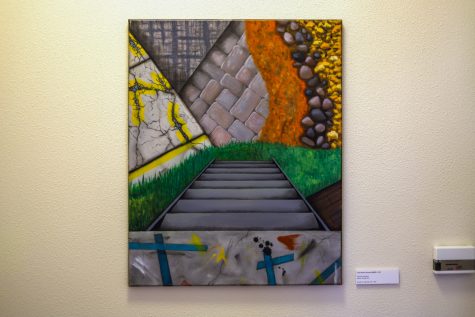 Guests were able to walk through the exhibition during the show's opening reception. During this time, they were able to vote on any piece to receive the People's Choice Award. Mary Blythe Streeter, a senior communications studies major, helped count votes before the start of the awards ceremony. She said there were nearly 130 total votes, and while many votes came close, there was a wide range of pieces that guests favored.   
The winner of the People's Choice Award, and one of two winners for the Best in Show, was "A Walk Around My Block" by Citlali Delgado. Delgado also won the Excellence in Painting Award at the UAM's Juried Student Show for her piece, "Destino Manifesto" –  another painting of hers that depicted unique elements of the borderland. 
In her statement about "A Walk Around My Block" in the exhibition's printed program, Delgado stated: "With oil paint, I created a commentary piece of a ritual I practice whenever I get to be at home. I usually make art pieces that get political to a degree, but I wanted to do something for myself for a change."  
The exhibition is likely to become an annual event, and its installation team hopes that it will continue to thrive as a space for diverse artists and star students to come together and showcase their artistic talents.  
"It was absolutely amazing," Streeter said. "I was so proud of our team, and I'm just so grateful to be a part of this." 
The Honors Art Collective Exhibition will be open to the public for viewing from April 14-May 5, 2023 inside the William B. Conroy Honors Center on NMSU's main campus. 
Leave a Comment
About the Contributors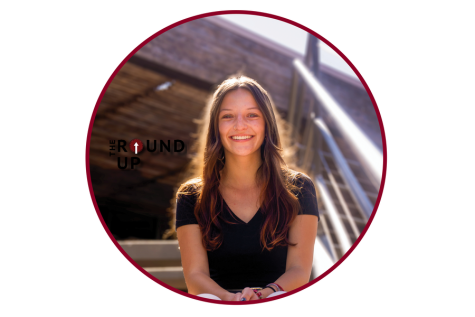 Riley Robertson, Staff Writer
Riley Robertson is entering her second with The Round Up as the Editor-in-Chief. She is a junior at NMSU double majoring in Journalism & Media Studies...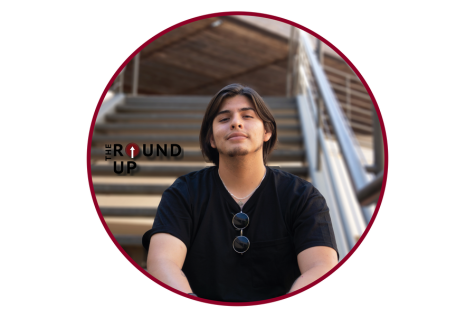 David Castañeda, Multimedia Specialist
David Castañeda is entering his first year as a multimedia specialist at The Round Up. This is his first year studying at New Mexico State University...