Dozens of individuals gathered at New Mexico State University to witness the inauguration of two innovative facilities on Friday, Nov 3., 2023.  The ceremony marked a significant milestone for the College of Agricultural, Consumer and Environmental Sciences by unveiling its  new buildings — Food Science, Security, and Safety Center and the Animal Nutrition and Feed Manufacturing Facility. 
Many dignitaries, such as President Jay Gogue, Lt Gov. Howie Morales, state representative Jack Chatfield, and members from various associations, attended the ribbon-cutting ceremony to demonstrate widespread support of the advancements in agriculture and education at NMSU 
As part of a project, funded by general obligation bonds approved by New Mexico voters in 2018 and 2020, the construction of the buildings commenced in 2021. Along with these buildings, a biomedical research facility is also under construction as part of the same project. 
Concerning agricultural products, ACES Dean Rolando A. Flores Galarza emphasized that New Mexico has immense potential for building markets.  
"New Mexico also has great potential to build markets for meat and other agricultural products," Galarza stated. "It's pretty clear that reaching consumers directly through our food science, security, and safety center can improve value-added processing." 
The Food Science, Security, and Safety Center was showcased as a comprehensive hub for various research and educational endeavors. It includes sections for animal processing, food processing, and a specialized laboratory for ensuring food quality, safety, and properties. Six main areas of emphasis were emphasized: meat science, fermentation technology, food chemistry, quality assurance, food safety, and sensory analysis. 
Furthermore, the Animal Nutrition and Feed Manufacturing Facility was highlighted for its role in product realization, allowing for the study of feed development and byproduct utilization. This crucial aspect is anticipated to pave the way for more efficient agricultural practices and sustainable solutions.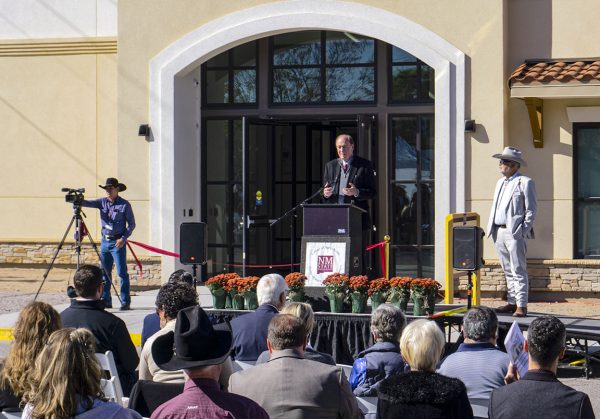 "[This new facility] is a perfect example of the opportunities for investment and advancements," Morales stated. "Today, nearly all of our cattle are sent out of state for processing. That can change as we embark on this new journey." 
NMSU can take significant strides towards its strategic goals by integrating the new center and facility. The integration will allow for the hiring of additional faculty members to lead innovative research projects, develop new patents, and launch business ventures.  
Additionally, the recently approved Ph.D. program in food science and the Center of Excellence Sustainable Food and Agricultural Systems will enable the university to further its commitment to advancing sustainable solutions in agriculture. 
"Our facility is renowned for bringing in the most research funding when it comes to the university," Galarza said. "Therefore, these buildings are part of the U.S.'s largest value-added agricultural research system,"