NM State volleyball prepares to open the 2018 season Friday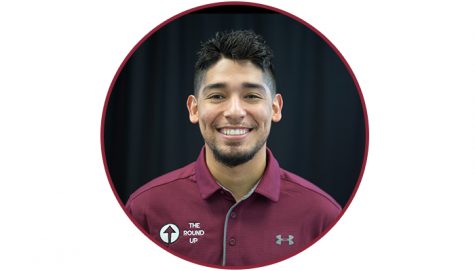 More stories from Jonah Gallegos
The term success can be interpreted in various ways, but one thing that's true is that success is earned and not just given; the New Mexico State Volleyball team has earned the reputation of being a successful program as the Aggies were voted as the favorites to win the 2018 Western Athletic Conference regular-season title in the WAC preseason coaches poll released last week.
Entering his 21st season, head coach Mike Jordan loses five seniors from last year's team, including two-time conference Libero of the Year Ariadnne Sierra. Despite the loss, Jordan sees no drop off in this year's team as they look to be Championship contenders once again.
Some notable newcomers include freshman outside hitter Cat Kelly and freshman outside hitter/setter Krysten Garrison. While Jordan admits that he and his staff look to build around seniors outside hitter Tatyana Battle and setter Briana Ainsworth, who were also named to the Preseason All-WAC team (the list additionally includes redshirt junior middle blocker Megan Hart), he also feels this year's team is versatile and very balanced at all positions.
"We've got a lot of great athletes –we don't have to rely on one person to carry an offensive load for us," Jordan said about his 2018 squad. "I like a lot of them. Cat Kelly, tremendous arm speed, great jumping ability, she just catches you off guard – she's not tall but she really flies. Krysten Garrison is coming off an injury in high school, she looks really good, I think she's going to factor in at some point for sure."
The veteran head coach understands that he has a young team and plans to get his underclassmen up to speed and to incorporate them into spots that won't set them up to fail. With that much being said, the identity of this team is also on the shoulders of the team's leaders. Jordan said he has already seen his seniors step up to the plate as the team's vocal leaders, but also has younger returners stepping up to the job as well.
"Megan Hart has really done a lot from a leadership standpoint," Jordan said confidently when asked about if any players have stepped up to become leaders. "Lia Mosher for just being a freshman last year, without a lot of experience – just has that personality, she's got that leadership gene and has done a lot for us as well."
With just two seniors, three juniors, and a total of 17 freshmen and sophomores combined, positive chemistry within the almost entirely new team is vital in order to build on top of an already successful program.
"The freshmen are definitely very different – all of them, they're so different," Ainsworth said while smiling. "We've actually had a couple of team bonding sessions, so we had like a team dinner and we played 'just dance'. Stuff like that is fun, it's always fun meeting new people and getting to know new people. All of our [sophomore, junior and senior] classes of course get along very good with each other because we've been with each other like the longest."
NMSU has been crowned the WAC regular season champions for the past three years and are coming off a 21-8 and WAC 12-2 season. This year they look to control the WAC once again and make that surge late in the post season and eventually get back to the NCAA tournament.
NMSU received six first-place votes and 62 total points followed by recently new archrival UT Rio Grande Valley who received 57 total points and three first-place votes. UTRGV defeated the Aggies in last year's WAC tournament sending NMSU home early.
The 2018 schedule brings back the drastic variety of the high- and low-quality teams of the WAC along with the newly added WAC member California Baptist; but the Aggies will also be tested as they take on a couple PAC-12 teams including a home-match against Arizona in early September.
Jordan explained that he's happy with how balanced his team's schedule is, with there being a group of opponents that will pose a "challenge" to his team and some opponents who will not be able match up against NMSU from an athletic standpoint.
"The PAC-12 opponents obviously are a big deal, we get Arizona on our home floor this year, that'll be a good match for our fans," Jordan said when asked which matches he will look forward to the most. "That first weekend (The Sun Devil Volleyball Classic) with Pacific and the teams we're playing there at Arizona State, I'm really curious how that's going to go. I think that's a tournament with a lot of parity – I think that's a weekend where anything can happen."
Despite the young roster, Jordan's two decades of experience should put any doubts or worries that Aggie fans have to ease. The team aims to look past all the preseason awards and will work hard to make a trip back to the NCAA tournament. NMSU's 2018 season will open with a trip to Tempe, Arizona as they will take on Pacific, ASU, and UT Arlington in the Sun Devil Volleyball Classic, which will begin on Aug. 24.
"Me and Bri (Ainsworth) won our freshman year – we really want to go back to the NCAA [Tournament] and I think since it's our last chance we're really going to try and get everyone to fight with us to get back there," Battle said about her goals for this year.
About the Writer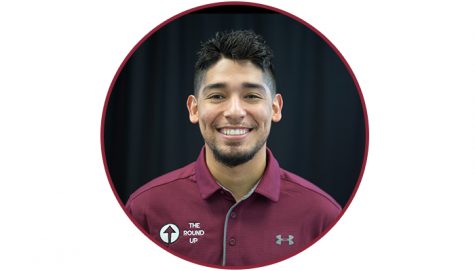 Jonah Gallegos, Sports Writer
Jonah J. Gallegos enters his second year at The Round Up and is currently a senior, majoring in journalism. Born and raised in Las Cruces, New Mexico,...