'Tis the season: A Christmas tree christens top of under-construction art building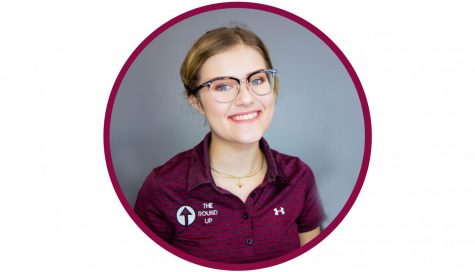 More stories from Jensen Stell
Recently, on New Mexico State University's campus, a small Christmas tree accompanied by an American flag have appeared on top of the construction for the new art building. Visible from University Avenue, the Christmas tree also lights up at night.
Students saw the tree being put up this past Thursday.
The contractor for the project came up with the idea to put up the tree and the flag. With permission from Robert Herrera, Assistant Director of Facilities with Project Development and Engineering at NMSU, the tree was up in no time.
"We didn't have any objection as long as it was done in good taste, which it was," said Herrera.
The act of "putting up" the tree happened on the ground.
The construction crew took the piece for the highest part of the building and welded the tree and the flag to the piece. It was then hoisted up and put in place via crane.
"It's a construction site and everybody's working hard, we still take time to step back and recognize that the holidays are coming up." Herrera said.
The tree does have lights on it as well, and at night the lights come on. Thanks to an extension cord connected to a timer, the tree's lights turn on and off every day. Nobody has to go to the top every night to turn it on.
There is also an American flag along side the tree.
"The flag is there to symbolize construction, America, the elections coming up and…the month that we recognize veterans," Herrera said.
While the tree is up with good intentions, it is hard to see during the day and not really something of significance to some NMSU students.
Freshman Keylie Kemple said she thinks it's too early to start celebrating Christmas.
"I love Christmas and Christmas Day…but we haven't had Thanksgiving yet," Kemple said. "So I feel like it's not the right time."
Seth Carpenter, another NMSU student had a similar reaction to the tree.
"I was pretty confused when I saw it," Carpenter, another NMSU student, said.
Whether you've seen it or not, the small Christmas tree on top of the construction for the new art building is here to stay through the holiday season.
About the Writer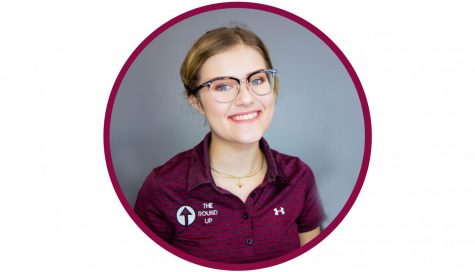 Jensen Stell, Staff Writer
Jensen Stell is a second-year staff writer for The Round Up. She began as a staff writer her freshman year at NMSU. She focuses her reporting on the arts...