New Mexico State baseball prepares for season-opening series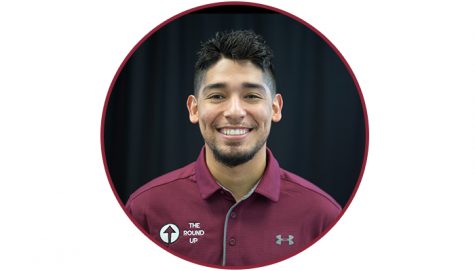 More stories from Jonah Gallegos
With February now in full swing (no pun intended), that can only mean one thing… Baseball season is now within arm's reach.
The 2018 season was nothing short of extraordinary for head coach Brian Green and the New Mexico State baseball team: first-time WAC Tournament champions, first NCAA regional appearance since 2012, tons of individual awards within the squad and even named the New Mexico Sports Hall of Fame (NMSHOF) College Team of the Year.
But now all that hardware and fame is in the rearview mirror for the defending WAC champions, and Green and his team are solely focused on moving forward in 2019, hopeful that they'll be able to surpass the previous year's success.
"Grind to get better," Green said when asked what it's going to take to produce another fruitful season. "We feel like we got a chance to be deeper on the mound just in terms of the numbers and having more guys that can come in and compete and throw strikes. We like our experience at the plate, you potentially have got seven guys who were starters last year offensively – and you bring back all that defense who set a school record for fielding percentage (.977).
"What we're really talking about with our guys is just taking better pride in the preparation and the process and really making a drive towards May and getting better every day."
NM State put up gaudy numbers a year ago, topping the WAC in multiple categories including batting average (.310), slugging percentage (.478), on-base percentage (.409), runs scored (493) and hits (656) while cracking the NCAA top-25 marks in hit by pitch (119) and triples (25) – just to name a few.
NM State is even garnering national attention, with College Baseball Daily ranking the Aggies at no. 39 in their preseason Top-40 poll.
The 2019 slate will be all but easy for NM State as they bring back quality opponents in Texas Tech (whom the Aggies lost to in last year's NCAA tournament regional matchup), Arizona State, Arizona and Yale.
"Really excited about the schedule and the potential of it, you got potentially in the first four weekends three projected league champions," Green said. "Texas Southern has been in the postseason three out of the last 4 years, Yale is picked to win their league, Delaware is always competitive, you got Nebraska in week five – aside from the midweeks a really really challenging schedule for us and the fact that we get to play those first four weekends at home is exciting as well."
Although NM State's numbers are flashy, Green is focused on what he and his team can control right now – and it's evident that his humble attitude is reflected throughout the whole club house.
"This is definitely the best team we've had – like [as] a family and as a whole, just coming together and working together and the younger kids are starting to pick up on it," redshirt-senior leader Caleb Henderson said about this year's squad.
Henderson sat out the 2017 season after transferring from Arizona Community College following a knee injury. The now-senior admitted that he was playing through some knee pain in 2018 and was not 100 percent – although his junior season stats say otherwise.
The Aggie first-baseman lead the WAC in runs batted in (65), doubles (20) and even added 10 homeruns, earning himself a spot on the All-WAC First-Team list to conclude 2018. He said his knee now feels "the best it's ever felt", which is scary news for the rest of the nation.
"Over the offseason I've been working on my speed a little bit – just being really versatile at the plate," Henderson said when asked how we would exceed his individual stats from a season ago. "You just got to have a good mindset, stay positive all the time, can't get down on yourself – keep working."
With success comes high expectations and added pressure, as other NM State athletic programs have come to know as well in recent years, and that's no different for the Aggie baseball team.
"New Mexico State Athletics is such a great department, everybody is successful, so for us –and for me personally – there's always pressure to perform," Green said. "You want perform for the administration, and the honor of getting the opportunity here. There's no more added pressure, we put that on our self, we want to do something that's never been done here and that's win a regional. But there's no added pressure, but I think anytime you're in a head coaching position there's certainly pressure, and you just want to perform to the best of your abilities."
NM State will bring back big-name starters with the aforementioned Henderson, junior Joey Ortiz, senior Tristen Carranza and the All-American honoree sophomore Nick Gonzales. The Aggies will open the 2019 season with a four-game home-series against Texas Southern, starting Feb. 15 at Presley Askew Field – opening pitch is scheduled for 4:05 p.m.
About the Writer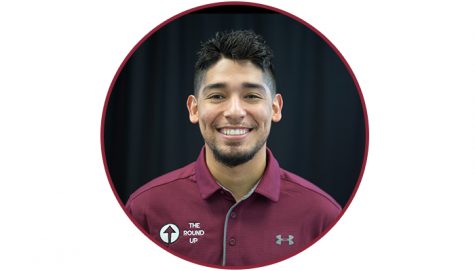 Jonah Gallegos, Sports Writer
Jonah J. Gallegos enters his second year at The Round Up and is currently a senior, majoring in journalism. Born and raised in Las Cruces, New Mexico,...