NMSU celebrates LGBT+ with Pride Season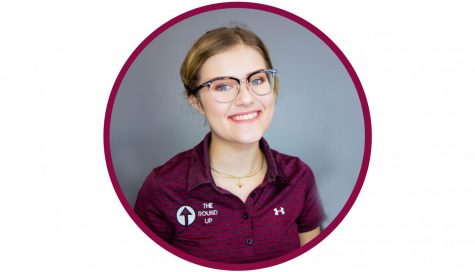 More stories from Jensen Stell
The spring semester at New Mexico State University means celebrating the LGBT+ community.
Pride Season, hosted by NMSU's LGBT+ Programs, is a series of events to celebrate diversity, inclusiveness and all the different ways students at NMSU are LGBT+.
Zooey Sophia Pook, Ph.D., Director of LGBT+ Programs at NMSU, said students who don't identify as LGBT+ can ally themselves with their LGBT peers by coming to the Pride Season events and learning about what things are important to them.
"It's important to recognize the variety of LGBT identities…LGBT people do come from all races, all backgrounds, they have all religions," Pook said. "I think [Pride Season] speaks to the entire student body in one form or another."
Pride Season kicked off with a lecture done by Susan Stryker, Ph.D. in the Corbett Center Student Union auditorium on January 30. Author, filmmaker and theorist, Stryker is a leading voice in Transgender Studies and is the founder of the Transgender Studies Initiative at the University of Arizona.
The next upcoming Pride Season event is a drag show featuring National Pageant Queen Gabriella Stratton Galore. The show will also feature local talent and special guests Sabrina Caprice Heartt and Eva Alicia Jane.
There is also a drag show to celebrate OUTober in the fall. Salma Lopez, a member of the LGBT+ Programs, said the drag shows are the biggest event the program puts on every semester.
"People just love drag, it's an amazing thing to watch…and experience and I'm really glad a lot of our students think so as well," Lopez said.
The drag show will take place on March 18 from 7 p.m. to 9 p.m. in the Corbett Center Student Union ballrooms. Admission is free.
The drag show will be followed by a live slam poetry performed by Kai Davis. As a queer woman of color, Davis's poetry explores topics such as sexuality and power and how those things impact human interactions and relationships.
Hailing from Philadelphia, Davis is a two-time International Grand Slam champ and won the College Union Poetry Slam Invitational in 2016. She is also the poetry editor for Apiary Magazine and the organizer and artistic director for The Philly Pigeon.
Davis will be performing on April 15 from 7 p.m. to 8:30 p.m. in the CCSU auditorium with no admission cost.
The fourth and final event for the 2019 Pride Season is a movie screening of the documentary Susanne Bartsch: On Top.
Susanne Bartsch was very influential in the New York City nightlife scene of the 1980s. She brought elements from the fashion and party scenes together, creating over-the-top monthly parties at the Copacabana nightclub.
Bartsch also played a major role in the success of drag culture, as well as mentoring many important gay figures like RuPaul. She also created the Love Ball, which raised $400,000 to help fight the AIDS epidemic.
Susanna Bartsch: On Top will be screened on April 22 at 7 p.m. in the Creative Media Institute Theatre. It is a free event.
"We have students from every college [and] every major represented, so we wat to promote their success…We want them to have events that speak to who they are," Pook said.