NM State women's basketball brings home fifth-straight WAC title
Hang on for a minute...we're trying to find some more stories you might like.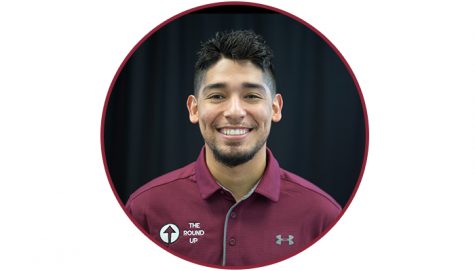 More stories from Jonah Gallegos
It was no walk in the park for New Mexico State Women's basketball, but a late comeback effort was enough to give the Aggies a 68-61 win over Kansas City, clinching the team its fifth-straight WAC regular season championship and second in head coach Brooke Atkinson's two years at the helm.
"Congrats to these young ladies, and to my staff because they make all the difference," Atkinson said. "Players make plays, players win championships – but great assistant coaches do too. It's just a testament to the staff that was here before us, to recruit the kids here and then my assistants just getting those pieces put in the right places."
NM State trailed by 11 at the end of the first quarter, with the 'Roos going on a 12-1 run before time expired. Atkinson's defensive-minded squad put it into gear come the second quarter forcing the 'Roos to shoot a miserable 20 percent from the field – resulting in a scoring drought for the remaining 3:27 in the second period of play.
Two bad quarters for NM State equaled to a reasonable lead for UMKC heading into the fourth quarter, up 57-46 – the 'Roos scored 26 points in the first quarter and 24 points in the third. The Aggies trailed the 'Roos for more than 30 minutes (33:10), being down by as much as 12 points with 8:21 left in the game.
It looked like the the Aggies would have to wait for until another day to seal the title but a late-game surge led by senior Brooke Salas (17 points, 13 rebounds and six blocks) would prove otherwise.
NM State would then go on a 14-0 run to close out the game, only allowing the 'Roos to score four total points in the fourth quarter – UMKC did not score a single point during the last five minutes of play.
"We didn't need to rely on the three, we were getting great shots inside the arc –make them guard, and so I think once we kind of got settled down and played inside-out, we were good," Atkinson said about some adjustments her team made to complete a comeback victory.
Junior Gia Pack added an outstanding all-around line of 18 points, 12 rebounds and seven assists while redshirt sophomore Aaliyah Prince (eight points, four rebounds and an assist) would go on to be the much needed spark of energy as the Aggies took control down the stretch.
"It's always good to have depth – other people stepping up when we need them to," Atkinson said about both Pack and Prince's performances late in the game. "The young ladies trust in the process, when they get their shot. Aaliyah has done that – I thought about it during the game, 'this is very similar to our Denver game,' we were down 10 and Aaliyah came in and she was all the difference."
NM State will now set their sights toward Saturday's matchup against Chicago State before closing out the regular season next weekend at Cal Baptist.

Hang on for a minute...we're trying to find some more stories you might like.
About the Writer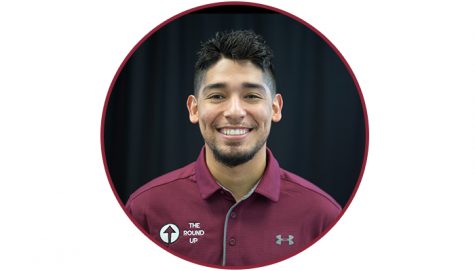 Jonah Gallegos, Sports Writer
Jonah J. Gallegos enters his second year at The Round Up and is currently a senior, majoring in journalism. Born and raised in Las Cruces, New Mexico,...