Women's track and field team hope to carry over indoor success into outdoor season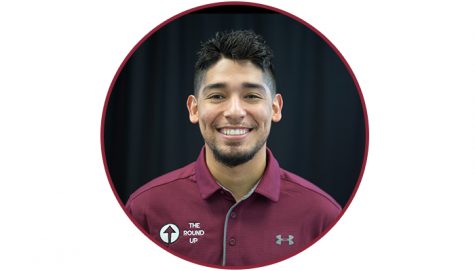 More stories from Jonah Gallegos
When New Mexico State athletics comes to mind, a good portion of people will either think of the unpredictable football team, the WAC-owning basketball squads or the amped-up baseball and softball club.
But a group that is somewhat under the radar is the NM State women's indoor track and field team, who continues to rise up toward the top with little recognition.
During the last week of February, second-year head coach Doug Reynolds and the Aggies took home second place at the WAC Indoor Championships, at the the Ford Idaho Center for their highest finish ever, which is especially impressive considering how NM State does not have its own home track to compete on (with the current NM State track "facility" being average at best).
Despite not having its own indoor track to train on, the team has cultivated a winning attitude, producing multiple athletes who do more than just compete in their own individual events (as track leans to more of individual competition, compared to the more well-known team vs. team-based setting) for the betterment of team point totals.
The team even entered the second day of the conference championships in first place but eventually fell behind Grand Canyon, who would go on and win gold at the meet.
"I've been here when we got fourth [place] and third [place], so like being a part of that was really exciting," Senior jumper Hannah Smith said about the team's highest finish in indoor. "Not only did we get second [place], but the gap between first [place] and second [place] is small enough that I think everyone is very encouraged and motivated – because in outdoor [Track and Field] there is no reason we wouldn't be able to close it and beat them (WAC opponents). I think everyone now is like 'let's go back to work and work harder.'"
While Smith finishes her indoor career at NM State with a team-second-place finish, she walks away from WAC Indoor with a 12.44-meter mark in triple jump, which was good enough to win gold in her respected individual event. The senior now looks forward to the outdoor track season, in hopes of finally bringing home a WAC championship ring.
"I thought like the coolest part was normally when I'm at conference, it's like Saturday morning is when I compete so no one else is there, and this year it was on Friday and the whole team was there, and everyone was cheering me on and I just felt like that really made a big difference too," Smith said. "It was only indoor, so I didn't necessarily get the marks I want, but a win's a win."
On the running side, junior college transfer Asjah Wallace was named Outstanding Track Performer and High Point Award Winner following the meet. The junior from Fort Lauderdale, Florida posted a personal best and program record in 60-meter hurdles, running an 8.45 to secure the title in the event.
"Honestly for me that was a big confidence booster. Going into WAC, I didn't think I was going to win, to be honest – like my confidence all season wasn't where it needed to be," Wallace said about what it meant to her earning those awards post meet. "To go out there and perform and P.R. (personal record) and do all these good things, I was just like 'oh, finally like it's here!'. So, I'm like 'okay', – now I'm running outdoor and I have to do the same thing, that's a goal of mine to get the High Point Award and Outstanding Performance Award again."
Wallace also competed in the 200-meter dash, placing second with a time of 24.34 behind fellow Aggie and first-place winner junior Brooke Wallace, who just edged her out with a 24.32. Coincidently, Wallace also was a part of the 4×400-meter relay team with Takiyah Johnson, Lanie Whelpley and Camira Haughton, taking home first-place with a time of 3:45.22.
Other impressive NM State winners include Keosha Sanders in the 60-meter dash (7.42, a program record), Keyarha Wilson in the high jump (1.70 meters, and third-straight title in indoor high jump) and Taniya Mitchell in the weight throw (18.51 meters).
The 155 points scored at the WAC Indoor Championship looks like it will only add fuel to the hungry NM State track and field team, with the outdoor season fast approaching.
"This is the second year with these new coaches but like they have made a world of a difference for everyone," Smith said. "I'm a senior, so I don't want to leave here without a ring. I've gone through the process, I've had my ups and downs and I really think this is the best the team has ever been and right now is the best chance we'll ever have at winning."
Smith made it to regionals a year ago and admits that she once again has that goal of going back and hopes to make nationals as well – even stating that she wants to hit 13 meters as her new PR mark.
Wallace agrees that the ultimate goal is to be crowned champions in the upcoming outdoor season, but her personal goals consist of breaking more school records.
"I'm looking forward to breaking another school record," Wallace said. "In the 400 hurdles I want to make it to regionals –hopefully nationals, that's my optimal goal. Basically, just get PRs all around and just have a consistent outdoor season."
NM State will open its track and field outdoor season on March 15 when they will compete against their I-10 rivals in the UTEP Springtime Meet.
About the Writer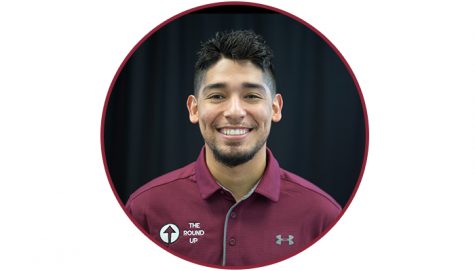 Jonah Gallegos, Sports Writer
Jonah J. Gallegos enters his second year at The Round Up and is currently a senior, majoring in journalism. Born and raised in Las Cruces, New Mexico,...