ASNMSU Presidential candidates hold debate prior to election week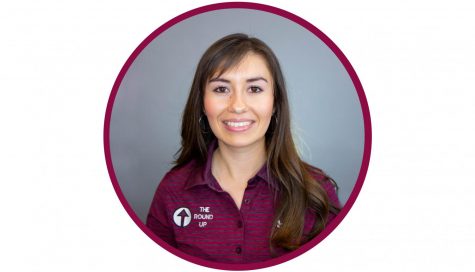 More stories from Leah Romero
Presidential and vice presidential candidates for the Associated Students of NMSU shared their ideas and their experience with students in a debate Wednesday afternoon.
Vice presidential candidates Melina Burnside, Salma Lopez and Ana Maldonado were first to debate and covered topics ranging from the experiences that make them qualified for the position to what issues they would like to address in the senate.
"Personally, I think that the biggest problem that Senate faces is a lack of, a lack of students knowing about our services," Burnside said. "And that's one thing I really want to emphasize. I really want more people to know about the kinds of reimbursements that we can give and the kinds of resolutions that we can pass through the senate."
Each of the candidates agreed better communication between the branches of ASNMSU could be fostered. All three candidates are current ASNMSU senators and Burnside and Maldonado have both been Roadrunner interns as well as serve as current residence assistants. Lopez is the outreach coordinator for the LGBT+ Programs and a member of the NMSU Lady Chile Rugby Team.
Carmen Jimenez, an NMSU student in attendance, stayed to hear the three candidates speak. She works with two of the candidates as a residence assistant, and wanted to narrow down who she would vote for.
"I think it's wonderful and it's a great experience, and I feel like a lot of students should be more interested in coming," Jimenez said. "I feel like I'm less confused than I was at the beginning but I still haven't made a decision."
Presidential Candidates Evan Conner, Reyaun Francisco, Ryan May, Jonathan Ortiz and Alexander Warner-Garrett debated after a 30 minute recess. Francisco, Ortiz and Warner-Garrett are current ASNMSU senators. Conner was the former ASNMSU Comptroller and May is the director of Community Outreach.
All eight of the candidates weighed in on diversity initiatives that could be fostered between ASNMSU and diversity organizations. May said he and Maldonado have already taken steps towards this goal.
"Currently, I already contacted the orientation director, so to say, who oversees the presentations at the summer orientation," May said. "I currently know that it is very important that diversity gets on those presentations so they can enlighten the students and let them know exactly how diverse ASNMSU and NMSU is."
Francisco and Warner-Garrett are the only two candidates running individually in this election. Burnside and Conner, May and Maldonado and Ortiz and Lopez are running as pairs. However, candidates are voted on individually.
Anthony Soto, an NMSU senior in attendance, agreed that the debate will help shape his decision on who to vote for.
"I think everyone had their own unique responses. I think we had a lot of diversity and ideas up there," Soto said.
Election week is March 11-15 and students will be able to vote for their college's senators as well as ASNMSU President and Vice President. Sonya Shanbhag, Chief Elections Officer, said there will be six election stations available around campus during the week and students can also vote at election.nmsu.edu