Salas to cap off illustrious career with one final trip to the Big Dance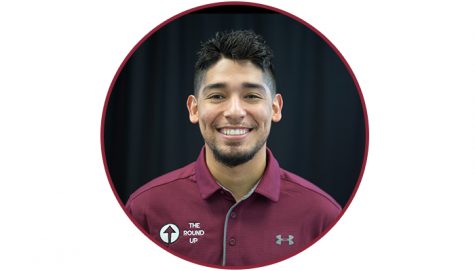 More stories from Jonah Gallegos
Brooke Salas has completely rewrote the New Mexico State women's basketball record books.
Salas, who was named the Western Athletic Conference Player of the Year, also took home the conference's Defensive Player of the Year award – becoming the first player in WAC history to win both prestigious awards in the same season.
This is the second-consecutive season that the senior from Placentia, Calif. has earned the Player of the Year honor, in what has been another banner-season for the 5-foot-11 guard. The awards don't stop there, as Salas also received a First Team All-WAC and All-Defensive Team nod, voted by the WAC's nine head coaches.
Add that to her three All-WAC tournament teams and being the first player in program history to play in three NCAA Tournaments and it is fair to wonder if Salas has a room big enough to store the accolades in.
"It's very exciting, it's very humbling," Salas said in a press conference earlier this week. "I think it gives us a lot of momentum going into the tournament – it's also a testament to my teammates and the coaching staff here."
Salas has evolved into the complete package since coming to NM State in 2015. Since her freshman year, she has increased her scoring and rebounding averages by drastic means – nearly tripling her rebound average from 4.6 to a current and essentially growing 11.2 and doubling her points average from 9.4 to a now 19.0, while also leading the conference in points and rebounds per game.
Impressively, she has started in all but one of the 125 games played in her Aggie career (so far) and her 1,913 career points has her set in second-place in career scoring at NM State, trailing only Anita Maxwell's 2,601 points, and fifth on the all-time WAC scoring list. Her 611 points this year also marks a new career high for season scoring, topping her already outstanding 592 points during last year's campaign.
At this point, Salas is accustomed to climbing up the school record boards, and she continues to do that in a well-rounded manner, pulling down 355 total rebounds on the year (the third most in a single season for NM State) and bringing her career total to 941, situating Salas in sixth place on the program's all time rebounding list.
All so often, fans have heard women's basketball head coach Brooke Atkinson preach about defense being her team's pride and joy, and Salas bought in and became the definition of a defensive terror, establishing herself as one of the greatest defenders ever to put on an Aggie jersey.
It was Salas' second-straight season being put on the All-Defensive team, with her 1.7 blocks a game before the conference tournament putting her as the WAC's runner-up in blocked shots. Not surprisingly, she also averaged 2.7 steals a game in the regular season, the second most in the WAC. Her 156 career blocks earn her the top spot in career blocks at NM State.
The Aggies will return to the NCAA Tournament after last year's hiatus, defeating UTRGV in a double-overtime thriller to secure head coach Brooke Atkinson's first WAC Tournament title in her two years and NM State's fourth in the last five seasons.
Salas delivered on the biggest stage with a vintage 29 point, 12 rebound performance, doing everything she could to get the Aggies back to the Big Dance, where in their last appearance they nearly upset No. 2 seeded Stanford in the opening round (behind another stellar 26 point showing by Salas).
Time will tell if Salas and the Aggies will be able to bust some brackets for the first time in school history, but if one thing for sure, though, it's that NM State will miss its back-to-back WAC Player of the Year once her illustrious career draws its end. Salas will undoubtedly go down as one of the all-time Aggie greats.
About the Writer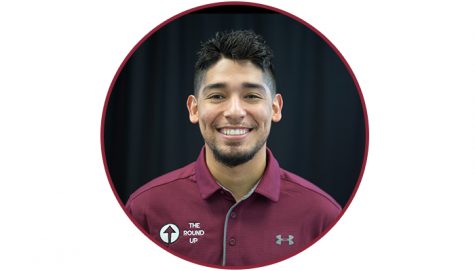 Jonah Gallegos, Sports Writer
Jonah J. Gallegos enters his second year at The Round Up and is currently a senior, majoring in journalism. Born and raised in Las Cruces, New Mexico,...