Aggies with fifth-straight win over Battle of I-25 rival UNM
Hang on for a minute...we're trying to find some more stories you might like.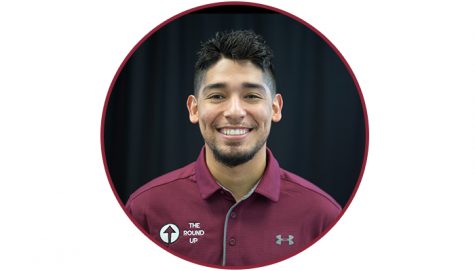 More stories from Jonah Gallegos
New Mexico State baseball and the University of New Mexico met for the 250th time for the Battle of I-25, with the Aggies handily defeating the Lobos 13-5 in front of an energetic crowd at Presley Askew Field.
First baseman Tristan Peterson (.461 season batting average) continued is offensive splurge with a no-doubter grand slam in the first inning, right away giving his team the momentum with a 4-0 lead. Peterson was selected for a few awards following his dominate showing at the plate this previous week – the junior was dubbed the WAC hitter of the week, Collegiate Baseball national player of the week and National Collegiate Baseball Writers Association national player of the week.
In addition to his biggest performance of the season Peterson went 3-of-4 with seven RBIs during his first outing against the I-25 rival.
"Those guys at the top of the lineup did a good job of finding a way on base and I was able to get a good pitch and put a good swing on it," Peterson said when asked about his tone-setting grand slam in the first inning. "It really got the crowd going, so that was pretty cool – it was awesome to have the big crowd here."
UNM (12-12, 4-5 MWC) wouldn't go away as it answered back with a four-run inning of its own, with three-straight hits in the second inning and scoring all four runs while with one out. NM State starter Chris Jefferson had a quick appearance, going a short two innings, giving up four earned runs, walking three batters and had two backwards k's – only logging in 56 total pitches.
Relief pitcher Wyatt Kelley was able to control the Lobo's damage that was done in the second, going two innings and giving up just one UNM run while on the mound (the bullpen with a combined 4.80 ERA). Twenty of his 32 total pitches were called for strikes – letting his defense do most of the work, who also have a strong fielding percentage of .980 on the year (the defense didn't give up any extra base hits and had zero errors).
"The story of the game was our bullpen, they were absolutely fantastic – from Wyatt [Kelley], to Aldo [Fernandez], to Keaton [Graf], to Matt Munden, I mean they did a great job," Green said. "They put up a bunch of zeroes. Aldo [Fernandez] was huge, he came into a jam, he got out of it, they got one run, he minimized – we're really proud of him. So, for us that's a Saturday great pitching effort and then against the Lobos, a good hitting team, that's another good pitching outing so lots to build on for us going forward."
Green has preached all season long about "answer back" innings – the Aggies (18-6, 2-1 WAC) seemed to have responded to their coaches' call when they scored a combined six runs in the following two innings after UNM scored four in the second. Peterson would head start NM State once again in the home half of the fourth with a single through the left side that would end up scoring Nick Gonzales (2-for-2 and scored three runs) and Logan Bottrell (1-for-2, with two walks and scored one run) – separating the game 10-4, in favor of the Aggies.
UNM would threaten in later innings but never saw NM State make the mistake they needed to get back on the scoreboard – staying put at five runs from the fifth inning on.
This was the first of two meetings between the Aggies and Lobos, a satisfying display of NM State fans in attendance for the Friday night slate. This was NM State's fifth-straight win against the Lobos.
"We were gunning for that fifth win in a row against them, which is really important for our guys because you know, it hasn't happened in twenty years," Green said. "It was awesome, great environment, great energy, it gave our guys that. The crowd played a big part – the diamond club was going off, we had mariachi's, it was a great night for us."
The Aggies will get back into conference play as they travel to the windy city to take on WAC foe Chicago State for a three-game series starting on Friday, March 29.
Hang on for a minute...we're trying to find some more stories you might like.
About the Writer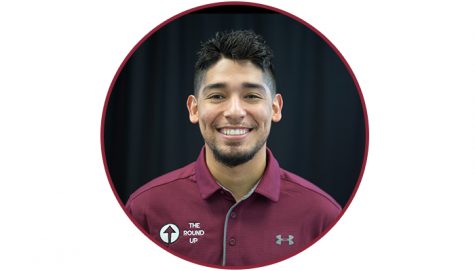 Jonah Gallegos, Sports Writer
Jonah J. Gallegos enters his second year at The Round Up and is currently a senior, majoring in journalism. Born and raised in Las Cruces, New Mexico,...