NM State football opens the season at No. 23 Washington State
Hang on for a minute...we're trying to find some more stories you might like.
More stories from Anthony McKenna
The time has arrived folks — at last, football season rests at our fingertips.
The Aggies finally take the field for meaningful action this Saturday when they travel to Pullman to face No. 23 ranked Washington State.
With a tough matchup like that coming this early in the season, NM State's game plan is more concentrated on establishing a team identity and improving on their play from a shaky 3-9 2018 season than any external factors or opponent specific schemes.
"It's more about us than it is Washington State… Offensively, we're just going to run our offense and do what we do, and see if we can get better — mainly not beating ourselves," head coach Doug Martin said. "If we don't turn the ball over, we execute and don't make mental errors than we're going to be a hard team to beat, because we do have talent.
"That's what's been our achilles heel in the past — those self inflicted wounds on both sides of the ball," Martin continued. "Once that gets started, it's hard to stop. We want to get this first game to be a really clean game."
NM State should know exactly what they're up against anyhow, with Mike Leach's patented air raid offense leading the NCAA in passing production last season (373.8 yards per game) while ranking in the bottom two in rushing totals (at under 78 yards per game).
The Cougars will trot out redshirt senior Anthony Gordon at quarterback, replacing the now Jacksonville Jaguar Gardner Minshew under center after the 6th round draft pick led Washington State to just their fifth double-digit win season in program history.
Still, a lot of Martin's message is Aggie-centric, with the seventh year head coach harkening back to things the Aggies did during their Cinderella 2017 season, highlighting areas that elevated NM State to its first bowl victory in nearly six decades.
"When you go back and look 2017 when we had a very successful season, we were ranked very highly in both [3rd down conversions and red zone efficiency], offensively and defensively," Martin said.
The Aggies should at least have more consistency from the get go on offense this year with Josh Adkins keeping a stranglehold on the job for the entirety of the offseason. Adkins carries has high praise from Martin entering week one.
"[Adkins] learns really quickly, and he very rarely makes the same mistake twice," Martin said of the redshirt sophomore from Spring Branch, Texas. "He's much further along probably than any sophomore quarterback I've ever coached mentally."
The Washington State defense is nothing to scoff at either and will make things tough for Adkins and his offense, with the Cougars returning a majority of the group that forced 24 fumbles last year. NM State's young offensive line will also be tested, with Willie Taylor III and Dominick Silvels leading the edge rushers — what looks to be WSU's strongest defensive group — following an impressive 38 sack year.
The Cougars face a tough schedule as well, with four games against pre-season top-25 teams — three of which being Pac-12 North opponents (Stanford, Oregon and Washington), who will challenge WSU for a spot in the conference title game in December.
Coming into this weekend as 31 point underdogs and with Alabama on the horizon, NM State will have a tough road ahead of them these first few weeks, but if the Aggies can establish an M.O. of toughness and grit, 2019 should be a step back in the right direction.
"The thing I'm most interested in seeing is what type of passion we play with, and what type of edge we play with," Martin said. "Are we going to get back to playing with a little chip on our shoulder? I think that's the biggest thing for us… It's how we play the game."
Hang on for a minute...we're trying to find some more stories you might like.
About the Writer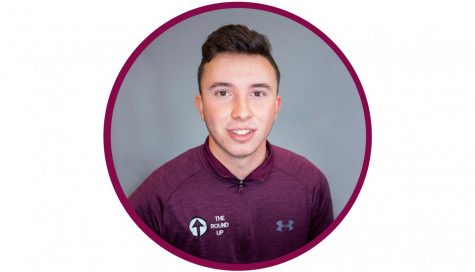 Anthony McKenna, Sports Writer
Anthony McKenna was born in Las Cruces, New Mexico. After living in multiple locations around the Southwest, Anthony decided to transfer to New Mexico...