Aggies comeback in dramatic fashion to top CBU, secure 12th straight victory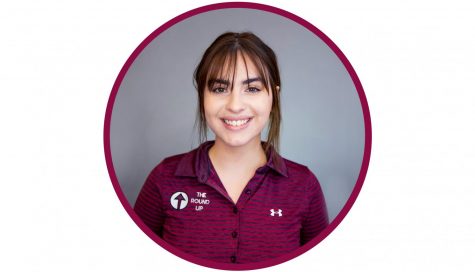 More stories from Mia Tontodonati
In a nail-biting five-set thriller, long rallies and ruthless kills would give the New Mexico State volleyball team an epic comeback win over California Baptist University (23-25, 22-25, 25-22, 25-21, 16-14) and improve their winning streak to twelve games in a row.
In the first set, the NM State Squad seemed to fall into an old habit of starting slow. The Aggies trailed behind the Lancers until a four-point serve run from Savannah Davison and kills from Megan Hart and Julianna Salanoa tied the two teams 13-13. From there, it was point for point between the sides, but missed balls are ultimately what cost the squad the set.
"We missed some digs, made a lot of bad choices… We had a bad attitude too," head coach Mike Jordan said when asked about the early struggles. "We were feeling sorry for ourselves. We were pouting, you know. Not taking responsibility. I saw a lot of defensiveness when they were being coached. You've got to step up and realize you've got a responsibility."
It was more of the same in the second set, with the two teams battling tightly for every point but a late attack error from Savannah Davison at the end of the set allowed CBU to collect the four points they need to win, despite an impressive frame for Lia Mosher, who showed off her talent with six kills.
"Well, we wanted to go to Mosher more — Lia did a good job," Jordan said of the prolific middle blocker. "I just wanted us to play with competitiveness and stay together as a group even if you're not playing well. You can't let your individual performance dictate the team dynamic. It's important."
After two loses, the NM State squad went into the third set with their backs against the wall. With the score at 12-12, a kill from Davison would propel the Aggies to score six straight with a run at the serve. The Lancers were not prepared to give up that easy though making coming back with a five-point serve run from Hana Okuhara tying the score at 18-18. From here, the match was tight, but the Aggies pushed through winning the set.
"Well, they made a lot of good plays. We were passive — I think we went off-speed when we should have brought more power," Jordan said of the lead change. "We didn't set the ball very well, especially our non-setters. When we were off our system, we had other people step in to set, and they didn't do very well. They left balls way off the net — we gotta do better than that."
In the final two sets, the Aggies were able to find success in small serve runs and kills. The fourth set was another close one, but a Lia Mosher block and kill left the Lancers in the dust.
In the fifth and final set, it was anybody's game, but Krysten Garrison's four points serve run put the Aggies two points ahead of the Lancers. While this wasn't enough to keep CBU from catching up, three Davison kills were. In the end, Ashley Anselmo was also a huge difference-maker in the game, claiming a career-high twelve kills and multiple big blocks in the final two sets.
"I think Mosher's energy was great. Anselmo got it together and did a good job," Jordan said. "I just think we did a decent job digging. Those things probably helped."
This victory not only boosted the squad's WAC record to 11-0, but gave them a twelfth straight victory. Jordan thinks there is pressure to keep the streak alive, but it should be more about improving individually and as a team.
"Pressure starts to build ya know like you don't want to lose, you don't want to lose, you don't want to lose, and you gotta change that to we want to be better, we want to be better, we want to be better," Jordan said of the winning streak. "It's not about losing something. It's about continuing to improve. It's hard to play that mental game — we have some young players who don't play it very well, but hopefully, we'll learn."
The Aggies will hit the road on Saturday to Texas to take on UT Rio Grande Valley for the second time.
Leave a Comment
About the Writer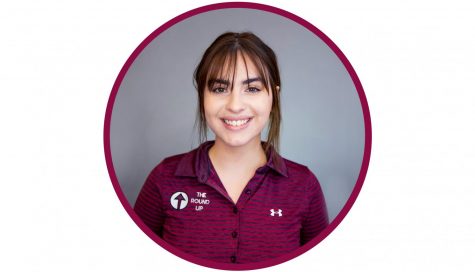 Mia Tontodonati, Sports Writer
Mia Tontodonati is in her freshman year and her first year at The Round Up. She attended Las Cruces High School and participated in Bulldawg Broadcast...