NM State ups their social media game to engage fans despite no live games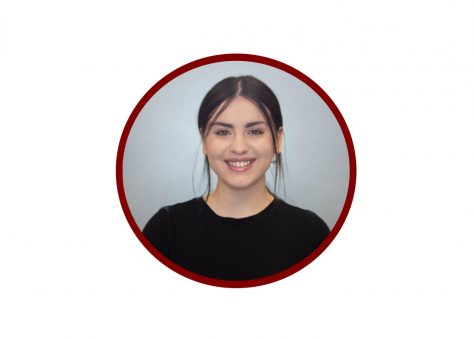 More stories from Mia Tontodonati
More than ever, social media is playing an integral role in connecting people with one another, and the New Mexico State Athletic Department is trying to utilize just that to stay connected with Aggie fans.
Since the great sports halt back in March, their marketing team has been working on switching their focus from live games to social media to engage with the community. They have already received recognition for their efforts from AthleticDirectorU, who ranked their athletic department's social media fourteenth for "Universities That Have Outperformed Based on Their Follower Count." Nicole Sack, Assistant Athletic Director of Marketing for NM State, thinks the ranking shows that quality content matters more than follower count.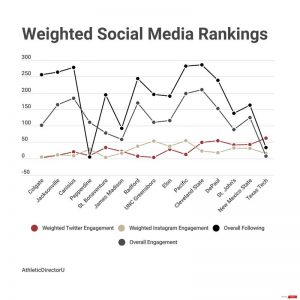 "That was awesome. That ranking really helps show the power of our content – not just the number of followers we have," Sack said of the ranking. "We don't have the followers of Power 5 schools, but what we put out causes our fans to actually watch or engage with our content – which is what you want. It means people are interested in what we are putting out, and they are interacting with and sharing our posts – not just scrolling through. It comes down to content, content, content."
Since the summer, the team has worked on building a more prominent online brand through creative and consistent posting. They share two-to-three big posts every day on their main account and three additional posts on each individual sport page. Their goal is to showcase every single student-athlete by the end of the semester, starting with sports that would currently be in season.
This daily content includes posts such as "Minute to Win It" team competitions, "Coach Jans' Film Room," where basketball coach Chris Jans breaks down film from memorable Aggie games and "Wallpaper Wednesdays," where they post savable wallpapers of student-athletes such as Savannah Davison and Jabari Rice. Charlie Hurley, Assistant Athletic Director and member of the Media Relations team, says it is essential to connect with students, fans and alumni because they are among the biggest driving forces in college athletics with Las Cruces and NMSU being no exception.
"Students are one of the biggest fan bases we try to reach on our platforms. Attending games is not the same experience as it was 10 – or even five – years ago, and because of that, we want to make sure to enhance the gameday experience by supplementing it with unique and engaging content on social," Hurley said of how the Aggie experience has changed. "Whether it's photos, videos, or graphics, we understand that fans – students especially – aren't just at games to focus on the games themselves. They are social events and have to be treated as such by us when we put out our content– our goal is to use promotions, stories, video, photos, and graphics to make students proud to be Aggie fans and NM State students.
"I have had the pleasure of working at a number of universities throughout my career, and I can say NM State is the best when it comes to fan support. Whether it's from the Las Cruces community, alums from around the nation, or parents, family, and friends of our student-athletes, coaches, and staff members, Aggie fans show up and are truly passionate about their teams," Hurley continued. "Fans want an engaging experience, too, when it comes to Aggie athletics, and our goals are to provide them with that from an in-game experience as well as from a social media experience by generating unique and engaging content that enhances their experiences."
Another central focus of this new way of connecting with the Aggie community is to keep it as safe as possible. According to Sack, everything posted to their accounts, whether it is a video, picture, or graphic, is done with the Las Cruces community's safety in mind.
"Beneath our content ideas was always the idea of: Can we do this well and can we do this safely? Most everything you see is filmed on a one-on-one basis, or is just graphic with audio," Sack said. "A lot of it comes from a genuine concern about the wellbeing of our fans. We have hundreds of people – especially older fans – who build their social lives around our games and events. Really we were worried about them. We wanted to be a constant presence online to give some sense of normal.
"Same goes for our student-athletes – the sudden 'end' last spring left a lot of our kids without the games, championships, practices, interaction that they were used to when they found themselves sent home for spring break. It was important to let them know that their efforts were not forgotten."
As the pandemic continues and sports are gradually being introduced back into the college world, the NMSU Athletic Department has some big social media goals they are looking to continue to reach.
"Our goal is to keep students, alums and fans excited about the Aggies. So when it is time that we can open our doors again, they don't feel like strangers. That's really what is behind all these 'Get to Know' graphics and little videos. We want people to still connect with us, even if it's just a silly "Minute To Win It" video," Sack said. "We are still practicing and going to school – and I think that is really important for people to know.
"Even with all these obstacles, we're still doing the work and trying our best to get through."
About the Writer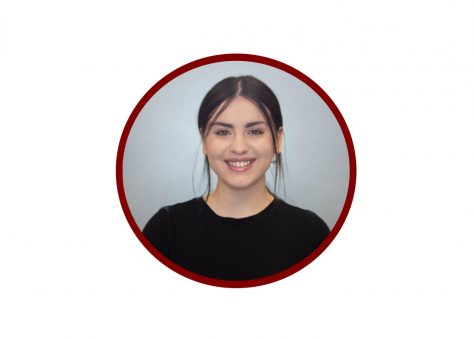 Mia Tontodonati, Sports Writer
Mia Tontodonati is a Las Cruces native entering her second year at The Round Up and New Mexico State University. The Las Cruces High graduate is currently...