Some changes might be permanent: Q & A with NMSU President John Floros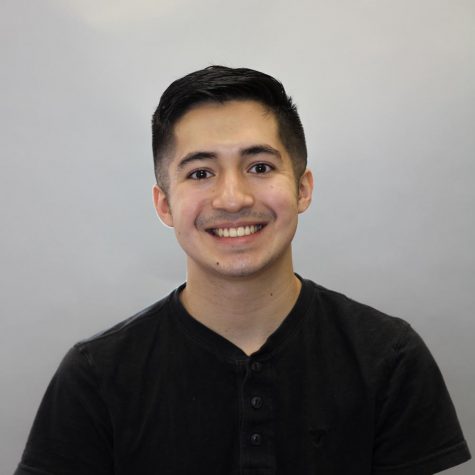 More stories from Ryker Bilvado
Expect the spring semester to have similar COVID-19 policies, New Mexico State University President John Floros said. In addition to COVID-19 in person class restrictions, NMSU had to spend over $6 million in COVID-19 related expenses this year, according to President Floros who briefed The Round Up following a weekly COVID-19 committee meeting.
Questions answered by NMSU President John D. Floros.
Question: Who is your consultant on COVID-19?
Answer: "We have lots of faculty and staff we look to, we have a very sizeable team of people filled with staff like the chief of police, the plumbing and such. But we have a much smaller team who meets every Wednesday morning, sometimes Friday to prepare for the weekend or Monday to go over what happened over the weekend."
Question: What would you do for the spring semester different that you learned from the fall semester regarding COVID-19?
Answer: "Our spring semester will look very familiar to the fall semester. The one thing I would do a little different is to work closely with students and student leadership, we can do a much better job with students, we did a great job in general communicating with everyone even with students, but I wish we had more student targeted communication, events and activities."
Question: What are your COVID-19 decision regrets?
Answer: "Not much really, we're very fortunate to have a good team we put together early on, good leadership and knowledge, I would be hard press to find any university that has a better action plan than NMSU. From the beginning we said we trust our students, and our students proved to us we were right. Not much regrets."
Question: Who among the NMSU population is the most susceptible to COVID-19?
Answer: "Same everywhere you go, the frontline workers like nurses and food services, and people with preexisting conditions. Anybody who's over 65 like some of our teachers."
Question: With the distribution of the vaccine, where do schools fall into the priority list?
Answer: "In general, there's not a priority line for schools, we have essential front-line healthcare workers who get the vaccine first, then the next group the vulnerable like people with preexisting conditions, then the larger population like students. New Mexico has been selected by Pfizer to work in their Immunization Pilot Program so that will help us out a lot. We're ready to take in the vaccine, if it's ready by the company then we'll have a vaccine ready for everyone by the end of the semester. I can't promise that, we have the tools ready to distribute the vaccine, all we need now is the vaccine itself."
Question: Regarding online, was there an additional expense to move everyone to online school?
Answer: "Last spring we did it hastily in two weeks, we did our best to transfer over 4000 courses online, there was a lot of expenses we experienced, we had to buy equipment we didn't have, or technology we didn't have or software we didn't have. Luckily around December and January we had signed contract with Zoom months before we needed it. We got it with the intention of online classes, video calls and such. So, when the crisis hit, we were ready with zoom, and we're still evolving and changing. Online education isn't necessarily cheaper than face to face.
To take the 4000 classes online it was expensive, we had to return $3.5 million for dormitory cost and meal plans.
In the end we're going to be better in the long run. We learned a lot those first few months, over the summer our staff worked hard. Only 40% of our classes are hybrid, we give students the option to go to class today or next week go online if they so choose to. With hybrid classes teachers work all day and night, and if students sent them a message and they don't respond then the student gets upset.
It was interesting to see our faculty change to a whole new life of teaching. I had a 82-year-old pastor who was completely lost with online teaching, then someone helped him and a couple weeks later he's ready to go, COVID-19 has changed a lot of lives, some of the changes are going be permanent."
Question: What we learned about wearing masks, do you think this will be a part of the school culture in the future?
Answer: "It'll continue to be with us for some time, we don't know how long. If we don't get 80% of the population vaccinated, it'll be hard to kill the virus. It's hard to predict what will happen, anything can change even tomorrow. Masks on are for sure the foreseeable future."
Question: Does the school have any type of legal or enforcement power to expel a student who refuses to wear a mask?
Answer: "We do have the power to tell them to wear a mask and to leave the campus, luckily we've had 99.9% compliance on campus, this comes from the police they kept record of mask wearing. And it's not a crime to not wear a mask, most of the time people often forget it in their car or it's in their pocket, but yes we do have the ability to enforce that."
Question: Will COVID-19 testing provided through the Aggie health center continue?
Answer: "We'll continue to do testing, we have the maximum number of the materials to continue testing, we test both systematic and asymptomatic people, this is how we kept our cases down to low numbers, there have been universities out there that wanted to test everybody, numbers have shown that doesn't give you an advantage.
We plan to test the students next semester when they get back. By then quarantine might not be two weeks, they're saying it might be 7-10 days."
Question: How much has COVID-19 cost the NMSU budget?
Answer: "We're still spending money on COVID-19. We have induvial units still spending money so it's a bit hard to keep track right now. Last year we spent 6-7 million dollars related to COVID-19 issues. We don't know this year but it's going to be a significant dent to our budget.
We're in debt now because the state cut our budget significantly, but the federal government has helped us out a lot. This summer we're predicting an upward of $10 million, it may be more than that."
Question: Will there be another tuition increase?
Answer: "Tuition is completely connected to what the state does, once the state gives us more money we don't raise, when the state cuts the budget the tuition goes higher, we were given a sizable budget cut from the state and we expect another one next year.
For example, we can't have a nursing program if we can't support the amount of staff we need."
Question: Do you expect a decrease in enrollment due to COVID-19?
Answer: "We don't know what would happen next semester. If the crisis didn't not happen, we would be 3-5 percent higher in enrollment. As the crisis happened, we were looking at 20% reduction in enrollment. When fall came around we were on par as we were last year, that's great news because all the other universities had drops in enrollment.
This spring we anticipate a small deduction in enrollment we don't know how small or big it's going to be. We're seeing a small tiredness in the student population, saying they're going to take a semester off because they don't like online classes and they rather wait for in person. If you lose one semester, you're never going to get it back."
Question: What will it take for NMSU to go back to in person classes?
Answer: "It's primarily vaccines that would make that difference, we need to vaccine 80% of the population, if we get to that point by May or June, then the transmission will slow down and the virus will slow down and die off, by August or September we can be back in class
We have to get to 80% that's the sweet spot so we can meet face to face again."
Question: Is there a student representative on your week to week COVID-19 committee?
Answer: No, but we are seriously considering adding one.
Question: Will students be required to show proof of vaccination to attend class?
Answer: We are in the process of discussing this issue now, and we will be making that decision after we know more about the timing and availability of vaccines."
Question: Anything else you would like to add?
Answer: "Couple of things, one thing no one is talking about is NMSU is big resource to the community around us, just the other day we provided 1200 test to the surrounding area in just one day, we had to work three shifts to do it, but people had their results back the next day.
Our campus acted as a break for the virus, most cases we reported came from outside the university.
The other thing we have a nice group of experts that came together, they worked really hard and advised us how to precede at the time, we had our police chief with all kinds of connections, like mask, in the beginning we didn't know how to get mask, but luckily our police chief had connections on how to get them.
We trust our students to do the right thing, and they proved we were right, they all did the right thing."
Leave a Comment