NM State Volleyball Faces Early Woes in Springhill Invitational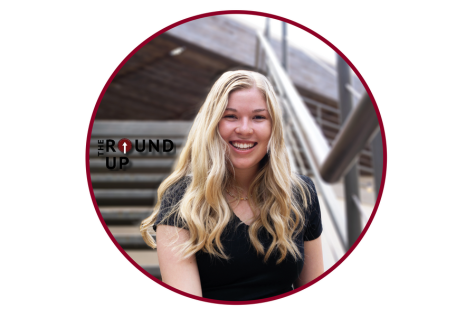 More stories from Shelly Doyle
The New Mexico State Volleyball Team took the Pan American Center court on Friday with the presence of fans for the first time since Nov. 16, 2019, winning one of two five set battles against Northwestern (25-19, 19-25, 17-25, 28-26, 15-8), and Arizona (25-14, 25-14, 25-27, 21-25, 12-15) pushing the Aggies to a 3-2 record to start this season. 
The Aggies jumped out to a lead early against the Big 10 Conference's Northwestern University in the first set, with Mari Sharp getting the first kill of the match and setting off a 4-0 run leading 8-6 and taking the set with ease at 25-19. Immediately following this set, Northwestern reciprocated in a big way, winning the next two sets and continuing the steady back and forth of elite competition. This NM State team proved resilient however, taking the game in comeback fashion with Katie Birtcil tallying up 15 kills and 5 blocks, Shaney Lipscomb with 13 kills, and Lia Mosher with 11 kills and 5 blocks to finish out the game. Sophomore Darian Markham showcased her "Libero-style," recording a career-high of 24 digs which she would later top.
"I don't think we're really confident yet so it's easy for a young team to hang it up after the second and third set," said head coach Mike Jordan. "But we kept battling and I think a lot of that was the defensive effort. We were digging a ton of balls. Alana Embry played her best match so that was good and Cat Kelly came in and gave us a lift."
This hard fought battle did not come without some difficulties for this NM State team however, with each player having to step up and play their part to secure the impressive win, while tallying up 10 blocks as a team and 50 total assists. 
"I think we served better than we did last week. I still don't think we are a really good serving team. I think Northwestern's weakness is the way they pass the ball. I think it was a good team effort and I'm pretty proud of them. Speaking on Lea Moshers abilities, "We really need to keep forcing the issues with her, there are more things we can do with her we just have to get comfortable doing it especially in a transition game, I think that's where we gotta work to find her more but Shaney and Katie just kept plowing away on the right and we weren't very good offensively on the left, Cat came up with a couple big ones there late but we did a good job."
Unfortunately, the Aggies fell in their second match of the day to University of Arizona after some thrilling back and forth play. Outhitting Arizona .280-.200, this NM State team put out an exceptional effort with Mari Sharp (10 kills, 12 digs) recorded her first career double-double and Carly Aigner-Swesey adding her second double-double of the day with 28 assists and 10 digs. Another outstanding performance from Libero Darian Markham was also in order, recording a career-high of 26 digs, along with Keke Holloway, who notched a career high of two aces as well. Former top-20 recruit Jaelyn Hodges dominated from the back row for the Wildcats with 24 of her 30 kills in the final three sets overpowering this Aggie Team.
The Aggies then played against the UTEP Miners in the "Battle of I-10" rivalry game. The outcome was a disappointing one though, losing the bouts 20-25, 32-30, 26-24, 25-22, and 15-12. The NMSU team will look to bounce back soon, with there soonest opportunity being at the Colonel Challenge in Richmond, Kentucky later this week.
Leave a Comment
About the Writer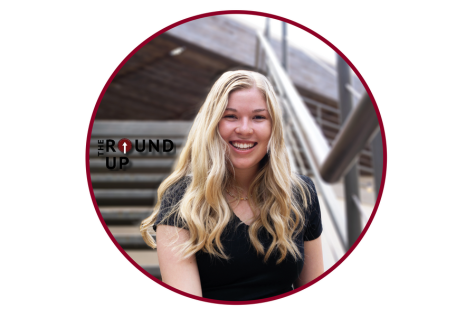 Shelly Doyle, Sports Editor
Shelly Doyle is entering her third year at The Round Up and her second year as the Head of the Sports Department. She is working towards a degree in social...