NMSU Football Show Support for Law Enforcement in Aggie Badge Bowl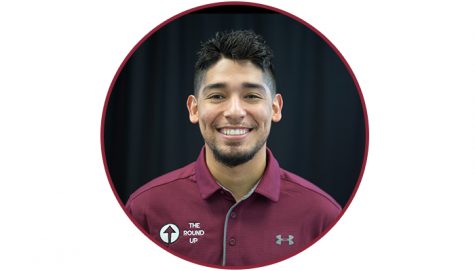 More stories from Jonah Gallegos
LAS CRUCES, NM – The New Mexico State football team once again partnered with local law enforcement as they played host to Aggie Badge Bowl II on Saturday evening at Aggie Memorial Stadium.
This year's donations went towards the Fallen Officers Memorial Fund. Members of the football team were present at the game to take donations. Last year during the inaugural event donations went to the Officer Jose Ismael Chavez Memorial Fund. Chavez was killed in the line of duty on Aug. 12, 2016.
"It was important, were doing this for the law enforcement – the fallen officers," said Officer Raul Delgado from Doña Ana County Detention Center. "I had a lot of fun, it's nice to get the community together."
The event was free to the public and consisted of a friendly seven vs. seven flag football game. Teams were made up of a combination of local law enforcement and student-athletes from the New Mexico State football team.
Some of the Departments who played in the game included personnel from the Las Cruces Police Department, the New Mexico State University Police Department, the Doña Ana County Sheriff's Department, the Mesilla Marshal's Department and the Doña Ana County Fire Department.
NM State sophomore wide receiver Isaiah McIntyre said he feels that this event is important to not only his team but to the Las Cruces Community as well.
"It brings us together. Look at all these people out here, you know what I'm saying, it just brings us together as a family. Shows that we can cooperate together – come out here and play a flag football game and just do it for the people." McIntyre said.
Members of local law enforcement who played in last year's event were more than happy to participate and compete once again.
"This year – came back with a different mentality and tore it up out there," said Officer Aaron Martinez from Doña Ana County Detention Center.
Martinez feels that this is a perfect time to hold an event that brings the community together as one.
"I think this is exactly what the city of Las Cruces needs, and probably other cities around the world," Martinez said.
The Blue team took down the Crimson team with a score of 42-12. The game ended early with about seven minutes left to play, due to lightning in the area.
The Aggies will kick off the 2017 season on the road against Arizona State on Thursday, Aug. 31, at 8:30 p.m. (MT).