Stuff the Stadium Part II to take place Saturday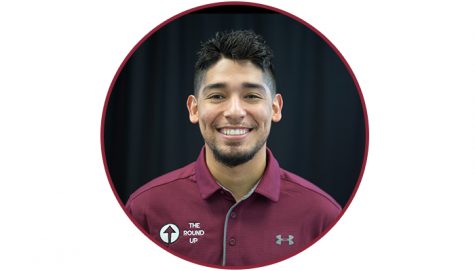 More stories from Jonah Gallegos
LAS CRUCES – The second edition of "Stuff the Stadium" will take place this Saturday at Aggie Memorial Stadium as the New Mexico State Football team takes on Troy at 6 p.m.
Ticket prices are $5, $10, or $15 depending on the section. The last day to get a $5 dollar ticket was today, but fortunately for fans $10 and $15 tickets will still be available on game day.
Patrick Kennedy, the ticket manager for games and special events at New Mexico State University, said these tickets are "a great deal opportunity". Normally the $15 ticket is $30, while the $10 ticket is normally $25. Aggie fans are encouraged to take advantage of these prices.
"It's just a lot of fun, it's a great way to bring the family," Kennedy said.
The NCAA requires FBS (Football Bowl Subdivision) college football teams to average 15,000 fans per home game at least once in a two-year time period. NMSU must meet this NCAA attendance mandate and average 15,000 fans this season or will face penalties.
Kennedy said as of today, they have sold about 8,630 tickets just for tomorrow's game alone. Additionally, around 4,000 season tickets have been purchased as well.
"That's 12,630, now here's the other good part, now it's up to the students." Kennedy said.
NMSU saves 5,000 seats for their students, and they will get in for free as long as they show their student ID. Kennedy said this goes for Dona Ana Branch students as well.
Kennedy has high hopes that students will show up for this home opener and believes more fans will continue to buy tickets.
"I think we'll get over 20 (thousand fans)," Kennedy said.
Aggie Memorial Stadium can hold about 30,000 fans.
NMSU has seen success from its previous Stuff the Stadium promotion, which was back in 2015 when NMSU faced similar attendance issues. Back when NMSU faced Georgia State, attendance reached 18,610 for that game.
The Aggies (1-1) are coming off a 30-28 win over rival UNM, and put up a fight against Arizona State in week one.
"This is a great team, 19 returning starters, and they looked incredible against the Lobo's," Kennedy said.
There are about 129 FBS college football teams around the country and NMSU is one of the select few.
"We are lucky to have a Division 1-A FBS school," Kennedy said. "I think sometimes we take it for granted, win or lose it doesn't matter. This is great football to watch."
Tickets are still available and Aggie fans still have the opportunity to purchase "great deal" tickets on the day of the game. Game day ticket prices will be $10 and $15. Visit the ticket office in front of the Pan Am, or stop at the ticket booths located at the north and south sides of the stadium.
"I just think it's going to be a fun game to come see," Kennedy said. "It's just a great environment."