Volleyball sweeps rival UTEP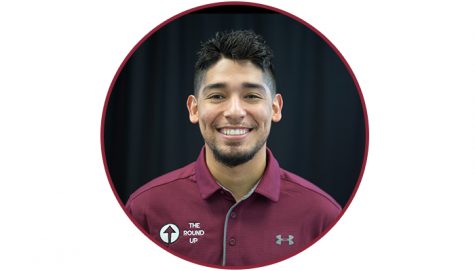 More stories from Jonah Gallegos
LAS CRUCES – The New Mexico State Volleyball team ended their non-conference schedule with a sweep over rival UTEP and enters conference play with a two-game winning streak.
Senior middle blocker, Sasha-Lee Thomas paved the way for the Aggies (8-5) with 12 total kills. Thomas had 6 kills alone in the second set of the match.
The Miners (3-10) kept it close in all three sets and tied the game up a total of 13 times.
"A lot of their runs were unforced errors on our (NMSU) part, if you look at UTEP's numbers they didn't get a lot kills," NMSU Head Coach Mike Jordan said. "We made a lot of attack errors at times, we have to do a better job of minimizing those."
NMSU had 18 attack errors on the night but outhit the Miners with a hit percentage of .195. The miners had 29 total kills as a team, compared to the Aggies 41 total kills.
Thomas has not lost to the miners, and ends her NMSU-UTEP matchup career with an undefeated record against the Texas Rival.
"I had to get this victory, I had to put my all into this," Thomas said.
UTEP outhit the Aggies in the first set, but as Coach Jordan mentioned, the Aggies made 10 attack errors in the first set alone. NMSU led the whole way through the first set and eventually won with a score of 25-19.
The second set was all Thomas, where she had some aggressive kills that sparked the Aggies into a run of their own. Senior outside hitter Jordan Abalos was held without a kill until late in the second set. NMSU went on to win the second set with the same score as the first.
The Sweep against the Miners was not only because of the stellar play from Thomas, but as well as the great defense from the Aggies.
The Aggies as a team had 10 total blocks, while UTEP only had four. Senior Libero Ariadnne Sierra had 13 total digs on the night.
NMSU enters conference play this week as they head to Texas to take on conference foe UT Rio Grande Valley.
Coach Jordan feels that the season is still young but is pleased that his team will enter conference play with a win streak.
"We were hoping we could get on a little bit of a run before we went into conference play, hopefully we'll be ready to go," Coach Jordan said.
Game time for the match on Saturday will be at 11 a.m.