NMSU Volleyball knocks off UMKC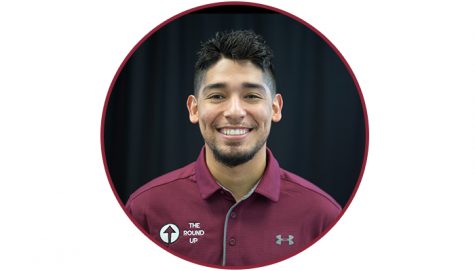 More stories from Jonah Gallegos
The New Mexico State volleyball team defeated the University of Missouri-Kansas City in straight sets and completed their second sweep of their two home game stretch on Saturday afternoon in the Pan American Center.
The Aggies (10-6, 2-1) never trailed during the match. The Kangaroos (5-12, 1-3) were only able to tie the game twice for the entire match.
"We're three late-game collapses from being – 13-3," NMSU head coach Mike Jordan said when asked about his team's recent success. "We're really close to looking, on paper, like a phenomenal team."
Coach Jordan said despite previous "shaky" play, he was happy with today's good, consistent performance.
NMSU's junior and outside hitter Tatyana Battle had another great showing – finishing with 15 kills out of 30 attempts, which equaled to a hitting percentage of .400.
"I'm just really impressed with Tatyana," Coach Jordan said. "She had some early season struggles with decision making and shot selection, and she's changed that about herself and look at the results. It's pretty impressive."
The talent of UMKC isn't as good as some previous opponents the Aggies have played.  Junior setter Briana Ainsworth said her and her team prepares and plays at their best level as if they were playing a high-level team.
Ainsworth finished the match with 21 assists and was one dig away from having a double-double. She had 9 total digs.
The team is still without senior leader Jordan Abalos, who waits to hear further information on her apparent leg injury.
"It's definitely very different without Jordan, she's a big piece of our team," Ainsworth said. "Kaylee (Neal) is doing really good in the back row, she's picking up a lot of that slack."
The Aggies started the match by outhitting the 'Roos. NMSU had 16 kills as a team in the first set and a hitting percentage of .448 at the end of the set. The Aggies' defense was also on point tonight. NMSU had six total team blocks and 48 digs. Senior libero Ariadnne Sierra had 16 total digs.
Coach Jordan's unit kept their attack errors low again, while UMKC really hurt themselves with errors. The 'Roos had a total of 24 attack errors.
The Aggies look to continue their success as they take a road trip next week and continue conference play. NMSU will take on Seattle University and Utah Valley.
They will be back in Las Cruces on Thursday, Oct. 12. Game time will be at 7 p.m. at the Pan American Center as the Aggies take on CSU Bakersfield.
Be sure to follow The Round Up Sports on Twitter: @TRUSports_