Men's Basketball schedule reveals difficult first month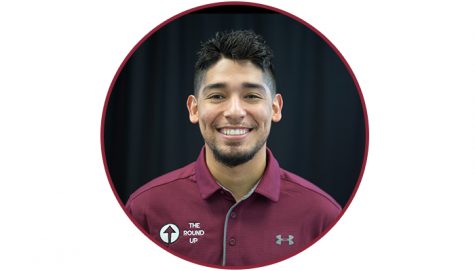 More stories from Jonah Gallegos
LAS CRUCES, NM – New Mexico State Men's Basketball fans' wishes have been heard as the 2017-18 schedule was released on Thursday, October 5. The new schedule has the Aggies playing some rather successful programs early on. Saint Mary's and Colorado State are among the more difficult teams that NMSU will face within the first month of their schedule.
"We've got our hands full in the non-conference portion of our schedule," Coach Jans said in an interview last week after the first official practice of the season. "Once the WAC (Western Athletic Conference) rolls around, we have – you know – played against some great teams, some great coaches, some great players, and we'll be ready to go."
First month at a glance
 The Aggies will open up with an exhibition game against Southeastern and will showcase to fans what the almost entirely new NMSU team has to offer this year. NMSU returns five players who saw the hardwood last year as an Aggie. A.J. Harris, a transfer from Ohio State, also returns to the team as he sat out the whole year last season due to eligibility rules.
New Head Coach Chris Jans and his team will officially open the regular season with a home game on Nov. 10 at 7 p.m. against a Division II East Central University team. This will give the Aggies a good opportunity to test some players at certain spots and tighten up the screws before they travel to Saint Mary's, a team the NMSU men's basketball program is pretty familiar with.
Important Away Games
Within the first month of the regular season, the Aggies only go on the road twice. As all games are definitely important in a season, two away games to look forward to are NMSU at Saint Mary's and at UTEP.
The last time the Aggies saw the Gaels was during their 2015-16 campaign. NMSU, a team who was back then run by now UNLV head coach Marvin Menzies, lost a nail-biter to Saint Mary's in the first round of the National Invitational Tournament (NIT). Take in mind that was a couple of seasons ago, and this year's Aggies team is an entirely different program. Nonetheless, the Aggies will have a good a test at Saint Mary's on Nov. 13, a team who went to the NCAA tournament last season.
NMSU will face rival UTEP in back to back games. On Nov. 25, the Aggies will host the Miners and within a week Chris Jans' team will travel south to the Don Haskin's center and will face the Miners again on Nov. 30. The Miners are an improved team from last season, who went 15-17 a season ago. UTEP 's season ended in a loss in the conference semi-finals to Middle Tennessee. The Aggies have swept the Miners in the past two seasons.
Important Home Games 
A game all Aggies have been waiting to hear about will take place very early in the season as NMSU host's former NMSU head coach Paul Weir and the Lobos on Friday, Nov. 17. Game time is set for 7 p.m. at the Pan American Center and a big crowd is expected for the in-state rival matchup. Both teams have a new head coach at the helms, but it will be interesting how Coach Jans and his team can handle a rivalry that now has an entirely new layer to it.
Colorado State comes to the Pan Am on Nov. 22 and will be another team that NMSU will have their hands full with. The Aggies lost last year's matchup 61-64 at Colorado State. The Rams are coming off a 24-win season from last year.
No doubt the Aggies will be tested early on, but it's also a huge plus to have, especially for a program who has a new coaching staff and a new system. NMSU should be prepared and well tuned before heading into conference play.
NMSU has good athletes and Coach Jans is a good pick up for the Aggies. Success is obviously expected, but fans are encouraged to come out to games and support this year's new but exciting team.