Players continue to step up as Volleyball sweeps CSU Bakersfield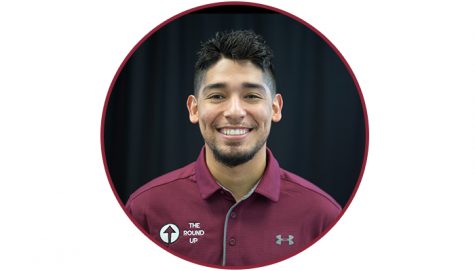 More stories from Jonah Gallegos
Being without two key players, it was a must for the New Mexico State Volleyball team to find ways to win.
NMSU (12-7, 4-2) took down WAC leader CSU Bakersfield (12-9, 5-1) in straight sets Thursday night in the Pan American Center. The Aggies ended the Runners six-match winning streak.
NMSU has had many young players step up this season, but being without Senior Jordan Abalos and now Freshman Brielle Sterns, players who don't see much playing time were expected to step up.
"Well, it's been a struggle," Coach Mike Jordan said when asked about the adversity his team has recently faced. "But I liked what we did today."
Coach Jordan explained that tonight was a must-win match for his team in terms of hopefully winning the regular season championship
Sophomore middle blocker Hannah Combs was among those players who stepped up and made her presence on the floor known. At 6'3, Combs is a big threat for other teams who face the Aggies. Though it may have not shown in the numbers tonight, her presence was well felt.
"The plan was to redshirt her, but with Jordan and now Brielle, we needed a real middle in there that could score a little bit," Coach Jordan said. "She did a good job and gave us a lift."
Combs finished the match with two kills but contributed to some huge blocks for the Aggies.
"There's a lot of pressure on my back but at the same time I knew my teammates were there to pick me up," Combs said.
The Aggies had their way with CSUB in the first set. But errors in the second set kept the Aggies down for most of the set. The Aggies showed great effort to stay alive. Briana Ainsworth and Ariadnne Sierra gave their all to keep balls alive and eventually led to points for the Aggies.
"We won a lot of long rallies and that's a key of a good team when you do that," Coach Jordan said.
The Aggies battled back after shooting themselves in the foot with errors, and after 12 ties and seven lead changes, they won the second set with a score of 25-23.
Coach Jordan explained that CSUB did not play their best but was happy with how his team forced the Runners into "bad spots."
The Aggies continue their home stand as they take on Grand Canyon on Saturday Oct. 14, at 1 p.m.  Grand Canyon is a struggling team this year but the Aggies do not aim to take them lightly.
Fans are encouraged to come out and support the Volleyball team, as post-game autographs will take place after the game.