Volleyball Sweeps In-State Rival UNM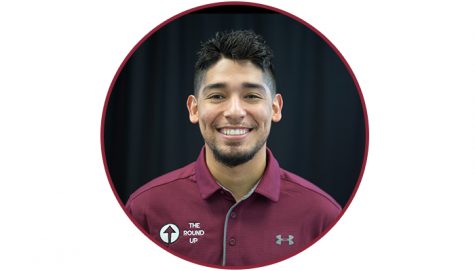 More stories from Jonah Gallegos
The New Mexico State Volleyball team avenged last year's loss to the Lobos with a sweep over their in-state rival Thursday night at the Pan American Center.
The Aggies (14-7, 5-2) had clutch performances from upperclassmen Sasha-Lee Thomas and Tatyana Battle. Both had double digit kills for their team, with Battle having 19 and Thomas having 13 of her own.
"It's my last chance playing them (UNM), so I had to be a motivator on the court," senior middle blocker Thomas said.
At one point in the match Thomas had three straight kills for her team and really dominated throughout the whole match. It seemed like every time Thomas came up big, Battle would follow with a huge kill of her own. The two of them were in a league of their own tonight and for the most part controlled everything that came their way.
"Our chemistry is really great together," Thomas said when asked about junior teammate Tatyana Battle. "We always motivate each other to do great on the court."
While it may have seemed that Thomas and Battle really controlled the match, the Aggies also controlled the net. NMSU had blocks throughout the match but also got them late in the third set when NMSU needed them the most.
"We blocked the ball better than we have recently," NMSU Coach Mike Jordan said.
The Aggies finished the match with 12 total blocks compared to the Lobos (11-10, 3-5) six total blocks.
NMSU rallied back after being down early in the third set to tie the game at 15. After that both teams went blow for blow with the Aggies finally winning the third set with a score of 28-26.
NMSU's upperclassmen did a really good job of picking up their team when the Lobo's battled back in the third set. But Coach Jordan also felt that his young middle blockers also contributed big time in tonight's win.
"Our young middles did a good job too, they didn't get a lot of kills. But they blocked a lot of balls," Coach Jordan said.
The Aggies enter the second half of their conference schedule and will face off against conference foe UT Rio Grande Valley. UTRGV defeated NMSU back in September, early in conference play.
"Hopefully with the big home crowd and a good week of practice we'll be ready," Coach Jordan said about Saturday's matchup.
Saturday's matchup will start at 11 a.m. at the Pan Am.