NMSU Volleyball Tops Off Senior Day With a Win
Hang on for a minute...we're trying to find some more stories you might like.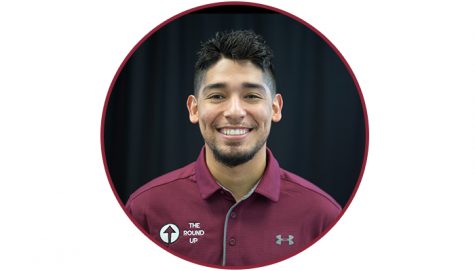 More stories from Jonah Gallegos
LAS CRUCES, NM – The New Mexico State Volleyball team came out with a win Saturday afternoon as the team's five seniors played their last home game as Aggies.
NMSU (19-7, 10-2) defeated Seattle University (9-16, 5-7) in straight sets with scores of 25-22, 25-13 and 25-19. The Aggies remain atop the WAC standings with only two matches remaining in the regular season. WAC foe UT Rio Grande Valley is 9-3 in WAC play and remains at number 2 in the conference.
NMSU's five seniors consist of Jordan Abalos, Ariadnne Sierra, Kaylee Neal, Kassandra Tohm and Sasha-Lee Thomas. They were able to further enjoy today's win with a senior ceremony, which took place immediately after the match ended.
"I don't know that I've had this big of class, it was just so unique in so many ways," NMSU head coach Mike Jordan said about his seniors. "I'm proud of the growth of them as people – I think that's very important, it's one thing to become a good volleyball player but you want to be a better person and have a better work ethic, and I think they do and I'm proud of them for that."
The seniors all had a chance to talk after the match concluded, where most of them took the chance to thank their families, teammates and coaches. Tears were seen, as emotions of today's last home game as an Aggie set in.
"I know my time here was short and got ended sooner than I'd like, but it was definitely a time I'll remember for the rest of my life," Injured outside hitter Jordan Abalos said about her career as an Aggie.
Each one of the seniors shed tears as their families, friends, teammates, coaches, and fans that were present listened attentively.
All five seniors had much success as Aggies but respectively, Libero Kaylee Neal saw most of her Aggie career coming off the bench and making the most out of the minutes she saw on the court.
"Well my freshman year I don't think I really thought that I was going to be here," Neal said. "It was really hard and took a lot of support and encouragement from all of you guys (NMSU fans and teammates) to get me here."
Coach Jordan and his coaching staff decided to give the first ever "Kaylee Neal Award" to Neal in honor of her selflessness and good teammate attributes.
"She was 99 percent of the time, the first person in the gym and almost always the last person to leave," Coach Jordan said about senior Kaylee Neal. "Never complained about playing time – and always did exactly what the coaching staff needed her to do."
The Aggies look to go on their last regular season road trip and will take on Grand Canyon on Thursday Nov. 9 in Phoenix, Arizona. NMSU looks to keep their hopes alive of being regular season WAC champions.
"Got to keep getting better – we got a lot of room for growth," Coach Jordan said.

Hang on for a minute...we're trying to find some more stories you might like.
About the Writer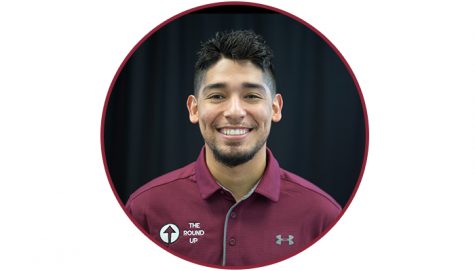 Jonah Gallegos, Sports Writer
Jonah J. Gallegos enters his second year at The Round Up and is currently a senior, majoring in journalism. Born and raised in Las Cruces, New Mexico,...