New Mexico State Men's Basketball Blows Out Colorado State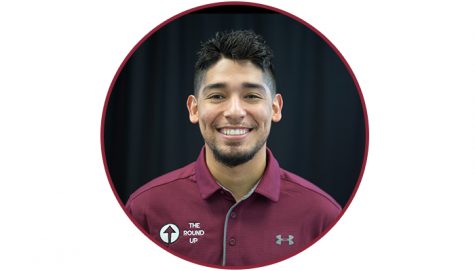 More stories from Jonah Gallegos
LAS CRUCES, NM – New Mexico State continues to improve week after week as they blew out and simply controlled the game against a good-rebounding Colorado State team.
The Aggies improved to a 3-1 record, defeating the Rams (2-3) 89-76 in the Pan American Center in front of a crowd of 3,883. NMSU led by as much as 19 points, which was around the eight minute mark in the second half.
All week NMSU head coach Chris Jans put an emphasis on the rebounding game. The preparation showed tonight as the Aggies out-rebounded the Rams 36 to 29.
"That [rebounding] was a big deal for us – that's all we talked about because I know how much they [CSU] care about that stat," Coach Jans said.
NMSU has not shot good from the three-point line these past few games, but after a slow start the Aggies woke up and put up some good numbers from three-point land. The Aggies went 3 of 13 from the outside in the first half, but flipped the script in the second half shooting 57 percent.
"It was a relief to see some other guys besides Zach [Lofton] make a three," Coach Jans said.
Coach Jans said he hopes tonight's three point shooting will up his teams confidence in that part of their game and hopefully will continue to get better.
Graduate transfer guard Zach Lofton had another solid outing putting up 30 points and shooting 12 of 15. Lofton was two rebounds shy of having a double double, but surpassed his previous season-high 28 points, which was set last Friday against New Mexico.
"I'm just having fun," Lofton said when asked about his confidence and special style of play. "When you play hard – you feel better about your game. When you have teammates like I have, that pick you up and talk to you and when they're doing their thing – I feed off of them."
Redshirt junior forward Eli Chuha also played a complete game. Although quiet these past games, Chuha's shooting finally woke up as he came off the bench and went 8 of 11, topping the night off with 24 points. The junior forward also went 6 of 8 from the charity stripe. The Rams big men really couldn't contain Chuha, fans saw him muscle his way to the basket multiple times.
"I just got to keep feeding off my teammates and buying into the coaching staff," Chuha said.
NMSU faced problems in the first half with CSU shooting 44 percent from beyond the three-point line. The Aggies' perimeter defense sharpened in the second half as they contained the Rams to only 11 percent.
"[We] manned up – we responded well," Lofton said when asked about the adjustments his team made at halftime.
The Aggies are now on a four-game win streak against Mountain West opponents after ending a 11-game losing streak to Mountain West opponents last season. Better yet, Aggies continue to improve on both sides of the ball and head into another rivalry game with two good wins under their belt. NMSU will take on rival UTEP Saturday Nov. 25 at 7 p.m. in Las Cruces.
"We are improving – but the best thing about it, and I keep telling them this, is we are just scratching the surface, in my opinion, of what this team could be," Coach Jans said about his team's early success.