Coach Jans and The Aggies Grab Another Rivalry Win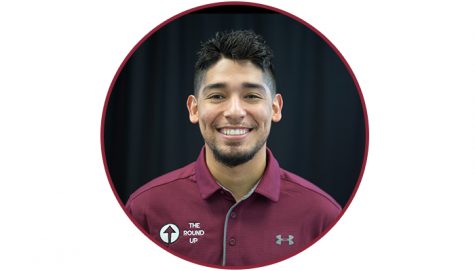 More stories from Jonah Gallegos
LAS CRUCES, NM – New Mexico State head coach Chris Jans is now 2-0 against rival opponents after his team defeated UTEP 72-63 Saturday night in the Pan American Center.
NMSU (4-1) continued to control the board against opponents as they out rebounded UTEP (1-4) 46-31. The Miners were without their senior center Matt Willms who is one of their leading scorers and top rebounders. NMSU felt they had a huge advantage with Willms out of the game, but NMSU graduate guard Zach Lofton feels his team could've handled the Miners even if Willms was on the court.
"He's [Matt Willms] a great player, I'm not taking nothing away from him," said Lofton. "But I think even with him in we would've game planned similar."
Both teams struggled offensively early in the game, with both teams shooting just around 37 percent. NMSU's top scorer Zach Lofton was held to just 5 points in the first half but eventually got going later in the game.
"We knew they were going to – face guard him and make it really hard on him, but for the most part I liked how he handled it," coach Jans said about Lofton's slow start. "He's going to get a lot more attention obviously going forward."
The Aggies struggled taking care of the ball against a scrappy UTEP team, NMSU had 16 total turnovers on the night. UTEP had 18 points off Aggie turnovers which really helped keep them in the game. Missed free throws by NMSU also kept them from really blowing the game open. The Aggies were 12 of 23 from the charity stripe while UTEP capitalized on the tons of fouls called throughout the game and shot close to 80 percent from the free throw line.
"We had opportunities to be up double digits, which is a different feel, we weren't able to do it," coach Jans said about his team being able to be ahead by double digits throughout the game. "Unfortunately, we didn't make some smart decisions down the stretch and made it a little bit harder than it probably should have been."
Fortunately, NMSU's bench picked up the slack when the starters couldn't get going. Jans' bench came alive and outscored UTEP's bench 24-8. Players like Johnny McCants came off the bench and gave the team the spark it needed. McCants' rebounding was big for the Aggies, especially when senior forward Jemerrio Jones had to sit because of foul trouble.
"He's [Johnny McCants] great energy off the bench," junior forward Eli Chuha said about his teammate. "He just does all the dirty work for us – good teammate."
McCants had just five points but had a monster dunk which brought the 6,069 in attendance to their feet.
"Imagine being on the court, it was crazy," Lofton said referring to McCants' big dunk.
NMSU's next game will take place in El Paso as the Aggies take on the Miners again on Thursday Nov. 30 at 8 p.m. Coach Jans feels his team needs this small break but looks forward to the road matchup.
"The Aggies got them a good coach." UTEP head coach Tim Floyd said about NMSU's first year head coach Chris Jans.