Aggies Outlast Prairie View A&M and Make It Five Straight Wins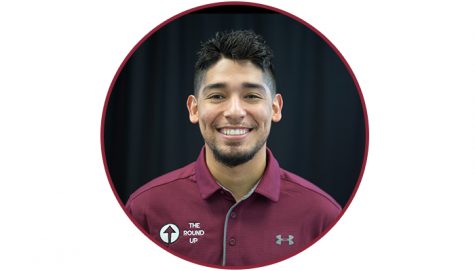 More stories from Jonah Gallegos
LAS CRUCES, NM – It wasn't pretty, but head coach Chris Jans and his basketball team will take the win and will extend their win streak to five in a row.
New Mexico State (6-1) defeated Prairie View A&M (2-5) 69-57 Sunday evening after getting off to a slow start.
"We knew coming in as a staff that it was going to be a scrappy hard fought game," NMSU head coach Chris Jans said.
Jans said he was impressed by Prairie View A&M when he watched them on film and explained that their record does not reflect their scrappy but hard play. The Panthers started their season against some good programs, those games being against Utah, Oregon and UNLV, all three, which they lost.
"Prairie View [A&M] is a hard opponent – but we just had to keep our composure and just be calm and listen to coach and buy into what he said, and we did a good job of that," red shirt sophomore guard AJ Harris said.
Turnovers by the Aggies really kept the Panthers in the game, with NMSU having 18 total turnovers. Fortunately for coach Jans' squad, Prairie View A&M committed 24 total turnovers, with the Aggies able to turn those into 25 points.
NMSU also outplayed Prairie View A&M in the paint, outscoring the Panthers 40-18.
The Aggies' largest lead was 19 but as seen in past games, NMSU had a hard time putting this opponent away.
"We've been in this situation a few times this year and we haven't been able to do it," coach Jans said about maintaining a big lead on opponents. "Like I tell the coaches, if that's our biggest problem – it's a good problem to have."
Graduate guard Zach Lofton was held to under double digits for total points for the second game in a row, with just five points on the night. Lofton got into foul trouble early on in the game and really couldn't stay on the court until about mid way in the second half.
Lofton also didn't start the game; Jans said this was due to Lofton not practicing much in the week because of a non-serious hip injury.
With Lofton struggling, it was a positive to see other players make some plays and get points. Senior forward Jemerrio Jones had one of his best games this season; he was everywhere on the court today and used his speed and agility to get open and make easy shots. He ended the game with his 4th double-double of the season with 18 points and 12 rebounds.
"I love playing with Jemrrio," Harris said. "He told me today 'just keep shooting, I'm going to get every rebound I can possibly get' – he's a good dude."
Harris finished the game a point shy of tying his career high of 18 points, which he got last game against UTEP.
NMSU is slowly looking like a balanced team more and more, with the points not only coming from Lofton or junior forward Eli Chuha.
"It's really nice knowing that we don't have to have them [Lofton and Chuha] score double figures or 20 plus in order to still win basketball games," Jans said.
The Aggies will host San Diego Wednesday Dec. 6 at 7 p.m. at the Pan American Center. NMSU looks to make it six straight wins on Wednesday night.