Men's Basketball Falls to San Diego in a Thriller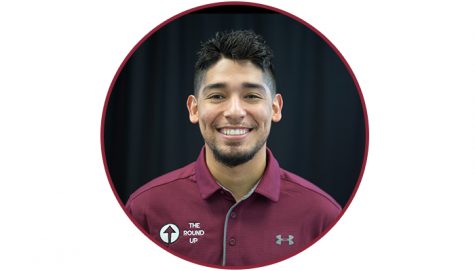 More stories from Jonah Gallegos
LAS CRUCES, NM – A game that came down to the wire saw New Mexico State University draw the shorter end of the stick, in a 65-60 loss to the University of San Diego.
The Aggies fell to 6-2 on the year, while the Toreros improved to 6-2 and definitely shot the lights out in tonight's matchup. San Diego made 11 three pointers and shot 40 percent from three-point range.
"They shot the heck out of it," NMSU head coach Chris Jans said.
USD, on paper, was a decent three-point shooting team coming in but tonight was a different story. On the flip side, the Toreros' defense is top in their conference; coming into the game leading the WCC in field goal percent defense.
"Their defense was good, give credit to them," Jans said. "But – I didn't think we couldn't get good shots – we just weren't able to stick them in the goal."
San Diego is not a bad team, and this should be a great learning experience for the Aggies. USD came in and knew they had to lock down key NMSU players in graduate transfer guard Zach Lofton, sophomore guard AJ Harris and junior forward Eli Chuha; all being held to under double digits in points.
Lofton has been held to single digits in points the last three games. He's had totals of five, six and eight points in his last three games.
"I feel confident about him [Zach Lofton] – he's a good player," junior guard Sidy N'Dir said about teammate Lofton and his recent struggles. "I'm not worried about him."
Coach Jans understands that teams are keying off top team scorer Zach Lofton, but feels his top scorer was just a few made baskets away from catching fire; unfortunately it didn't happen tonight.
"What I did like about it is that he [Lofton] didn't rely on the three – he started putting his head down and going to the rim," coach Jans said.
NMSU had a non-conference home game win-streak snapped tonight, which ended at 17. The last time the Aggies lost a non-conference home game was on Dec. 13, 2015 against Wyoming.
With only seconds remaining in the game, NMSU had multiple opportunities to at least tie the game up. One being with about 12 seconds left in the game, with sophomore guard AJ Harris missing a pair of free throws leaving the Aggies behind still at 63-60.
The Aggies cleaned up their play regarding turnovers, only making 10 tonight. But made "untimely" ones late in the game.
"The ones we had were very untimely – they were critical," Jans said.
On the flip side, the Aggies forced USD to make 16 turnovers, which helped keep NMSU in the game.
"They're [USD] a good ball club – they're connected, it just seems like they have good chemistry," Jans said.
NMSU looks to forget this loss quickly as they head to Albuquerque this Saturday to take on the Lobos for round two in that rivalry. Jans looks to make it a clean sweep against rival teams on the year.
Tip off is set for 7 p.m. at the PIT.
About the Writer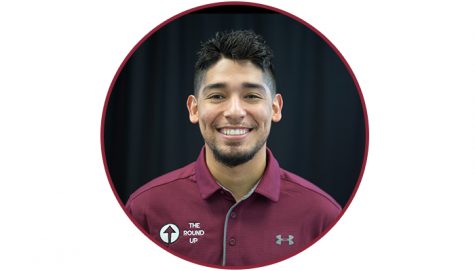 Jonah Gallegos, Sports Writer
Jonah J. Gallegos enters his second year at The Round Up and is currently a senior, majoring in journalism. Born and raised in Las Cruces, New Mexico,...