NMSU's Jemerrio Jones Grabs A Triple-Double In Blowout Win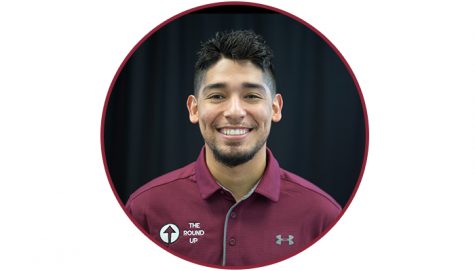 More stories from Jonah Gallegos
LAS CRUCES, NM – The New Mexico State Men's basketball team simply outmanned a smaller Division-II team, Eastern New Mexico, defeating the Greyhounds 84-62.
NMSU (8-2) took control of the paint early in the game and never looked back from there. The Aggies outscored the Greyhounds 44-24 in points in the paint.
Senior forward Jemerrio Jones achieved his first triple-double as an Aggie, punching in 10 points, 11 rebounds and 11 assists. The last NMSU player to grab a triple-double was Daniel Mullings back in his freshman year of the 2011-12 season against Hawaii.
"I'm happy for him [Jemerrio Jones], he deserves that," NMSU head coach Chris Jans said. "To be able to make the history books for a triple-double in his senior year – and do it efficiently."
Jones went 5 of 8 from the field and got his teammates involved throughout the game, finding players and getting them easy shots. The 6'5 senior is averaging 11.6 rebounds per game
"I just played my role," Jones said. "I was just hooping today."
The high-energized forward is among the top rebounders in the country as of right now. According to ESPN's website, Jones is sixth in the country in rebounds per game. After tonight's performance, his individual ranking has a good chance of moving up.
"In my head I knew he was due for one, he is a complete player, we love playing with him – so unselfish," graduate guard Zach Lofton said about his teammates performance.
Redshirt junior guard Sidy N'Dir and Zach Lofton also had solid outings. N'Dir finished with 13 points and really put in effort that won't show up on the statistics sheet. The junior guard was everywhere on defense and has evolved his overall game to being more of a defensive threat for his team.
"I like to play defense – Jemerrio pushes me to play defense as well," N'Dir said about how it's been becoming the team's go-to defensive player.
Lofton looked to be back to his normal self, scoring 29 points off of an 11 of 16 performance from the field.
NMSU was without some of their main contributors in redshirt sophomore guard AJ Harris, redshirt junior forward Eli Chuha and junior guard Keyon Jones. Jans said Harris and Chuha should be back in the roatation for Saturday's matchup in Chicago. Keyon Jones has a "pretty good ankle sprain" according to coach Jans; Jones was in a boot during tonight's game.
NMSU won't be back in the Pan American Center until Jan. 18 as they take a very extended road trip during the last remaining days of December and into early January.
Their next game on the schedule will be against Illinois and will be played in the Chicago Bulls United Center.
"It's a critical time of the year for sure," Jans said about his teams upcoming road games.