New Mexico State takes sole possession of first place in the WAC after immense win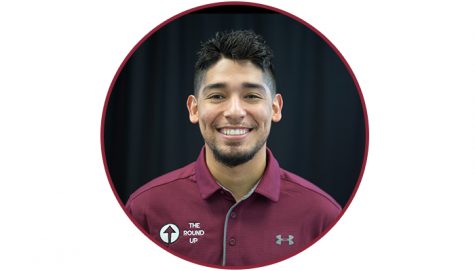 More stories from Jonah Gallegos
LAS CRUCES – It was close for a while. Then 15 made three's happened; New Mexico State fired from all cylinders Saturday evening and blew out a good Utah Valley team, with a lop-sided victory of 86-59.
More importantly, the Aggies take sole possession of first place in the WAC standings and remain as the only undefeated team in the conference.
According to NMSU head coach Chris Jans, this might've been the Aggies best performance all year.
"Definitely the best game we played at home thus far," coach Jans said about his team's demanding win.
Coming into today's game, Utah Valley (15-6, 4-1) was the WAC's top scoring offense, averaging close to 82 points a game.
The Aggies (17-3, 5-0) held the Wolverines to just 59 points, well below their leading scoring numbers.
Graduate guard Zach Lofton felt that him and his team just stuck to their game plan and that obviously equaled a strong defensive performance for the second game in a row.
"In the end – especially today our guys were just locked in, I mean they were really good from the jump," coach Jans said. "They're starting to take pride in their defense, it's becoming important to them."
Not only did the NMSU defense bring Aggie fans to their feet but 15 made three's seemed to do the job as well.
Coach Jans' squad just could not miss in the second half. Shooting 60 percent from the field and 61 percent from three-point land.
Redshirt junior guard Sidy N'Dir and Lofton both had career highs in three point field goals made. With N'dir knocking down 4 of 5 from three, and Lofton adding 7 of his own. With Lofton besting his previous high of six three point field goals made, which came on a heart breaking loss to USC.
"We (NMSU) just stayed in the gym – we really worked especially during that break, shooting a lot of three's, a lot of free throws, and it paid off," N'dir said.
Lofton said his team moves the ball very well and spreads the defense out creating open shots.
"Coaches made us shoot a 100 threes and shoot a 100 free throws after practice on the break, and it's catching up to us," Lofton said. "I think that's why percentages were so good."
Utah Valley is not a bad team, the Aggies were just the better team tonight; really sending a message to the rest of conference with this blow out win.
"They're really good," coach Jans said about Utah Valley. "They caught us on a tough night, they caught us when the ball went through the net."
The attendance for tonight's game was 6,046 and once again Aggie fans made their presence known and felt.
"Not only the folks in the community showed up but I thought our student section was awesome," coach Jans said when asked about how he felt about Las Cruces showing up with great energy. "You can feel the energy in the building."
NMSU will leave the friendly confines of the Pan American Center once again for a short one game road trip and will take on UMKC on Saturday Jan. 27 at 7 p.m.
Next home game is on Tuesday Jan. 30 against Northern New Mexico.
About the Writer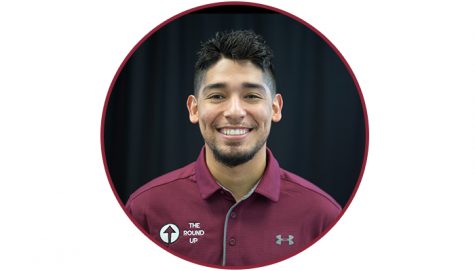 Jonah Gallegos, Sports Writer
Jonah J. Gallegos enters his second year at The Round Up and is currently a senior, majoring in journalism. Born and raised in Las Cruces, New Mexico,...