In ever-changing WAC, New Mexico State manages to remain king of the conference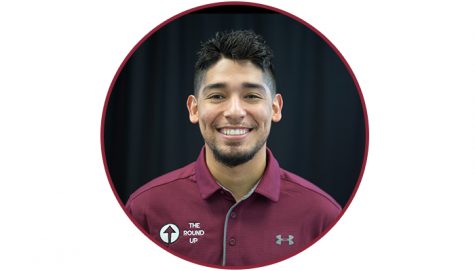 More stories from Jonah Gallegos
Early doubts of whether or not this New Mexico State men's basketball team would produce wins have been silenced due to the success by NMSU head coach Chris Jans and his squad – and that is accredited to solid wins and a high-energy type of play from the Aggies.
This Aggies (17-3, 5-0 WAC) team is much different than past recent NMSU teams that fans are use to watching. Fans and spectators have seen NMSU prove they can hang with almost any team in the nation, even beating once then No. 6 Miami (Florida) and getting to the Diamond Head Classic Championship – which was no easy road.
"It's really fortunate that it's all came together the way that it has," Jans said about his team's season so far in a post-game press conference after defeating Seattle U. "It was a crazy spring and summer, a lot of moving parts, a lot of scratching your head wondering what the finished product would look like."
NMSU's losses have not been bad either, only losing to now No. 16 Saint Mary's (CA) –whom they faired close to all the way up to the second half –, a solid San Diego team and USC where the Aggies led for most of the game in Hawaii.
Another key factor that differs this team is that they have won games they are supposed to win. Respectively, no games are a given in Division I basketball, but being in the WAC means NMSU will be playing below average to decent teams.
The Aggies have created an identity of being the power house team in the WAC over the years, and that equals to expectations of winning most, if not all of their conference regular season games.
"The biggest thing for us is that these players have allowed us to coach them," Jans said. "They've (NMSU players) really bought in and they jumped off the bridge so to speak, and trusted us a little bit more than maybe they were in the summer – and that's the reason for our success."
Although just five games into the conference regular season, the Aggies have gone on the road and defeated, now post season eligible-Grand Canyon University by a convincing score of 70-59. With another win also coming against WAC foe Cal State Bakersfield, who despite their struggles this year, have always been a team to give NMSU trouble.
The Aggies also dismantled the Utah Valley Wolverines last Saturday evening to gain sole possession of first place, after losing at home to UVU last year and snapping NMSU's conference home game win streak. Respectively, this year's team is much different than last year's Paul Weir team and coach Jans seems to have many more athletes that can produce on any given night.
"I've been telling them since I've arrived that talent won't be our problem," Jans said. "We've got enough talent, it's 'can we come together?'."
It's legitimate to say that this team has come together as NMSU is ranked No. 44 in the NCAA rating percentage index (RPI) poll. This style of ranking takes in to mind the strength of a team's schedule, as well as a team's wins and losses.
The Aggies have also received votes in the Associated Press top 25 poll.
In the kenpom.com poll the Aggies are the only WAC team to break the top 50 coming in at No. 46. The closest WAC opponents are GCU at No. 92 (RPI rank: 193) and UVU at No. 103 (RPI rank: 77).
Over the past few years NMSU has struggled in the kenpom poll, but has worked its way up. From 2015 to 2017 they finished at ranks of 98, 111 and 84 according to kenpom.com.
It is yet to be heard if Jans feels these numbers are relevant to him and his team but he has said that he's enjoyed watching this team grow and feels they have "plenty of growth left."
Whether these numbers actually matter or not, NMSU looks to continue to roll and control their own destiny in hopes of making yet another NCAA Tournament appearance.
Fans and spectators do know this though; this squad is special.
"Over time our practices were better, our communication was better – some of the other guys started stepping up and mimicking the things I was saying," Jans said about his team. "It's been fun to be a part of it."
About the Writer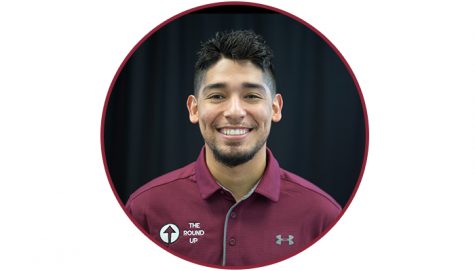 Jonah Gallegos, Sports Writer
Jonah J. Gallegos enters his second year at The Round Up and is currently a senior, majoring in journalism. Born and raised in Las Cruces, New Mexico,...