New Mexico State shuts down the WAC's top scorer in win over UTRGV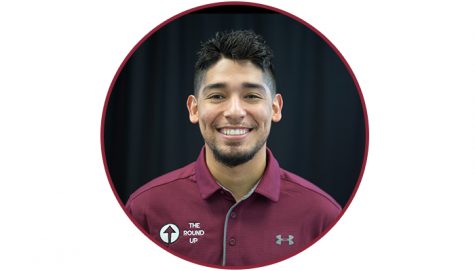 More stories from Jonah Gallegos
New Mexico State men's basketball grabbed their 20th win of the season, defeating the University of Texas Rio Grande Valley 90-67.
UTRGV (12-12, 3-4 WAC) led for almost nine minutes in the first half, then NMSU graduate transfer guard Zach Lofton and company went on a run to close out the half; going into halftime up 42-30.
The Aggies (20-3, 7-0 WAC) got off to another slow start for the second game in the row. NMSU put the Vaqueros at the line to start the game and allowed UTRGV to pull down 16 offensive rebounds – something NMSU head coach Chris Jans is not happy about.
"We got to tighten that up," Jans said about his team allowing opponents to grab offensive boards. "We can't just rely on Jemerrio (Jones) going to get the rebound because it's easy to do that when you have a guy on your team that's such a prolific rebounder."
The 6-foot-5 senior forward Jemerrio Jones tied his career high in rebounds today, grabbing 20 rebounds; this is also his new season high in rebounds. Add 10 points to his final statistics and it's Jones' 14th double-double of the season. 13 of his 20 rebounds alone came in the first half.
"He (Jemerrio Jones) gets the job done," NMSU sophomore guard Shunn Buchanan said. "Some of them (rebounds) seem like they just come to him."
Another Aggie who posted a new season high was leading scorer Zach Lofton, who is averaging around 20 points a game. Lofton was one field goal away from surpassing his career high in points; finishing the night with 34 points, a tad shy from his career high of 35.
"It really just feels great to be back out here with these guys – get a good team win," Lofton said when asked about his performance today.
NMSU had to go up against the WAC's leading scorer, that being UTRGV's Nick Dixon who has averaged 21 points a game up till today. Jans' team held the senior to 15 points; Dixon also got into foul trouble in the second half.
The conference's second leading scorer, is of course, NMSU's Zach Lofton.
"He (Dixon) had all of our attention prior to the game – in terms of our game planning," Jans said.
Coach Jans said no specific player was assigned to guard Dixon, and it was more of a "team concept", where Jans' team knew what they had to do to stop the WAC's top scorer.
NMSU's first half of conference play, couldn't have gone any better – first in the WAC with a 7-0 record. But the first year head coach believes it will not be easy sailing heading into the final stretch of the regular season.
"There's no secrets anymore," Jans said. "We're (NMSU) not foreign anymore, they (WAC opponents) know more about us, and so we'll have to tighten up – everything."
The Aggies will continue their four-game home stand where they will host Cal St. Bakersfield on Feb. 8; tip off will be at 7 p.m.
"This group's proven to be hungry – we'll just keep doing what we're doing," Jans said
About the Writer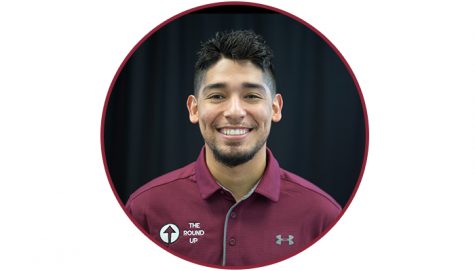 Jonah Gallegos, Sports Writer
Jonah J. Gallegos enters his second year at The Round Up and is currently a senior, majoring in journalism. Born and raised in Las Cruces, New Mexico,...