New Mexico State's defense locks down Cal-State Bakersfield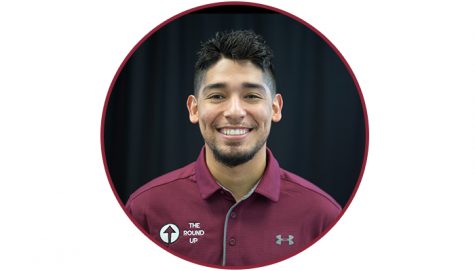 More stories from Jonah Gallegos
New Mexico State Men's Basketball has won every conference game they've played this season by 10 or more points. That did not change tonight as the Aggies blew out Cal-State Bakersfield by a score of 69-43.
It seemed like the Aggies did everything right tonight – everything but shoot the ball well. NMSU shot just 34 percent but they took care of the ball, held their opponent to 43 total points, capitalized at the free throw line and out-rebounded the 'Runners with authority.
The Aggies had 53 total rebounds compared to CSUB's (10-14, 3-6 WAC) 38 boards. Coach Jans was "okay" with his team allowing the 'Runners to 12 offensive rebounds; this coming after previous games where the first year head coach was not pleased with the opponent's offensive board totals.
"We know when we don't shoot the ball well, it's (defense) going to be there for us and always keep us in the game," NMSU senior guard Joe Garza said after holding CSUB to just 25 percent from the field.
NMSU senior forward Jemerrio Jones grabbed 20 rebounds for the second game in a row, tying his career-high in rebounds once again. He also finished with 6 points and 3 assists.
"He's special, I've never coached anyone quite like him," NMSU head coach Chris Jans said about rebounding machine Jemerrio Jones. "It's just very comforting knowing that you got a guy that's going to go out and get 15, or 18 (rebounds). It's amazing."
Jones was one rebound away from achieving a new career-high in rebounds. He also ranks second in the nation in rebounds per game – before tonight's matchup he averaged 12.0 rebounds a game.
Jans' team also shot a high percentage from the charity stripe, going 11 of 11 in the first half; finishing the game 13 of 15.
NMSU (21-3, 8-0 WAC) has struggled at times this season from the free throw line but showed that their extra time in gym is starting to pay off.
"Obviously tonight, that should give a lot of guys confidence going forward," Jans said about his team's free throw shooting.
The Aggies have been playing lock down defense during conference play and currently rank first in the WAC in scoring defense. NMSU is also one of the top defenses in the country, ranked No. 4 in scoring defense before tonight's victory.
CSUB was forced to 12 turnovers, while NMSU held their turnover numbers to under 10 only committing nine total turnovers.
A uniqueness about this team is that any player can get going on any given night, or they all produce at an equal rate. Of all the Aggies who saw the court tonight – all but two NMSU players scored tonight. NMSU graduate transfer guard Zach Lofton topping things off with 14 points.
More and more reserve players are putting in solid minutes for the Aggies as well. Joe Garza being one of the few; after battling concussions and a illness that kept him from practices earlier this season the senior guard has worked his way back into the rotation.
"Try and come hard every day and play hard and help these guys get better," Garza said about working his way back into the rotation. "And when my name's called just do what I'm supposed to do."
Garza was voted a team captain by his teammates and coach Jans sees him as one of the team's leaders.
"I Trust him – I love coaching him, I wish I could coach him further," Jans said about Garza.
This NMSU team continues to roll right past WAC opponents and shows their king-like dominance in the conference.
A nasty one-handed put-back dunk by freshman forward Johnny McCants got the crowd into it and put them to their feet early in the second half; and while the crowd was loud at times a final attendance of only 4,206 was the official attendance for tonight's game.
This is 10 straight wins for NMSU, and tonight's win marks the lowest points scored by an opponent all season; that being the 43 total points CSUB scored tonight.
The Aggies will play GCU Saturday night at 7 p.m., in what looks like will be a close to sold-out crowd. GCU lost tonight to UTRGV 83-81 and sit at third place in the conference.
About the Writer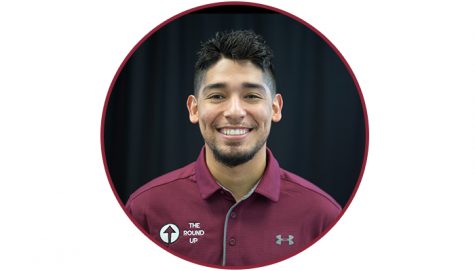 Jonah Gallegos, Sports Writer
Jonah J. Gallegos enters his second year at The Round Up and is currently a senior, majoring in journalism. Born and raised in Las Cruces, New Mexico,...