New Mexico State-GCU game comes down to exciting finish in front of sold out crowd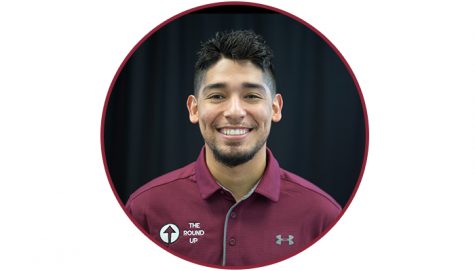 More stories from Jonah Gallegos
Aggie Fans were not disappointed Saturday night as they witnessed a thriller inside the Pan American Center. New Mexico State edged out a talented Grand Canyon team, grinding it out to get the win 74-70.
A sell-out crowd of 12, 989 was in attendance for the breath-taking game, which came down to the final seconds in the second half. NMSU head coach Chris Jans said the crowd tonight was a big reason why his team won the game.
"We needed them (Aggie Fans), and our guys responded," Jans said about the loud and energized crowd. "Certainly thank each and every one of them for making this happen."
NMSU was down by as much as 13 points early in the second half, but like fans have seen before, the Aggies rallied back. NMSU sophomore guard AJ Harris hit a three-point shot late in the second half to tie the game at 64-64. From there on both teams went bucket for bucket.
"We just stuck together," Jans said about his team not giving in to the adversity they faced. " Those guys in the huddle were really talkative and – encouraging one other and talking about getting enough stops. They just found a way to win."
Jans' squad has not faced this type of adversity in a while, but said he mentioned to his team the multiple times they came back to win ball games. Games such as at New Mexico, Illinois and Davidson.
For the third game in a row, senior forward Jemerrio Jones grabbed 20 rebounds on the night and was once again one rebound away from setting a new career-high.
"I can't imagine me ever having another player the rest of my career that can get 20 rebounds – especially when he's 6'5," Jans said about Jones. "Everyone else feeds off him."
Jones also had 27 points – a new season-high for the senior and was three points away from a new career-high. The man was everywhere tonight and really lead the Aggies to this victory.
For the second game in a row, NMSU pulled down at least 50 rebounds. The Aggies had 56 rebounds compared to the Lopes' 37 boards.
NMSU did not shoot the ball well in the first half, shooting 33 percent from the field – their defense was not much better, allowing GCU to connect for six made three-point field goals in the first half. GCU went into halftime with a six-point lead; they also led for majority of the game.
"It woke us up for sure though," Jones said about GCU coming out strong. "Everybody is going to bring us their best."
Jans' defense woke up in the second half, getting key stops late in the game.
NMSU graduate transfer guard Zach Lofton was held in check for majority of the first half but got going late in the second half – finishing with 15 points and 6 rebounds. Coach Jans said Lofton was a bit bothered by GCU's physical defense but was glad his team's leading scorer overcame the scoring drought in the second half.
This Aggies team now sits alone and somewhat comfortably at the top of the WAC standings; now 9-0 and 22-3 overall. NMSU will have a tough road trip this upcoming week as they travel to Seattle U and to Utah Valley. Jans' squad comes back home late February to play its two remaining home games.
"We're playing for bigger things," Jans said about his team not being complacent with where they're at right now. "We're too far in the season, we got too much riding on this."
Las Cruces showed up tonight and coach Jans and his team hope the fans can continue to show up and support.
"A lot of energy in here tonight – shout out to the fans," NMSU junior guard Keyon Jones said.
About the Writer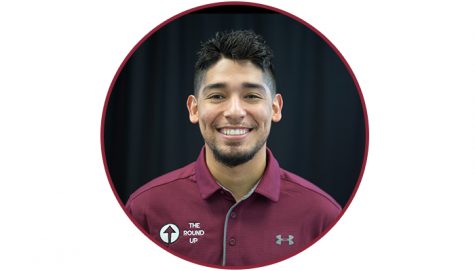 Jonah Gallegos, Sports Writer
Jonah J. Gallegos enters his second year at The Round Up and is currently a senior, majoring in journalism. Born and raised in Las Cruces, New Mexico,...