Aggies clinch WAC regular season title on senior night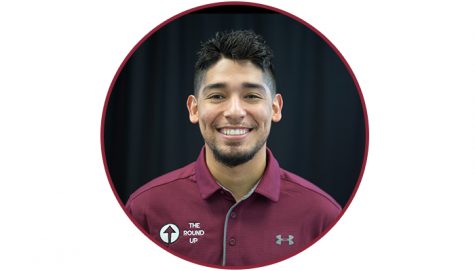 More stories from Jonah Gallegos
New Mexico State men's basketball reassured fans and critics that they are still the high-energy team people saw before the their two road losses; as they not only won tonight but also clinched the WAC regular season title.
NMSU (24-5, 11-2) gave their four seniors a well-deserved final home win as they ended the University of Missouri-Kansas City's four-game win streak with an 82-58 victory on senior night.
"It's certainly a game that they're going to remember, and we just talked about how important it was for everybody else to play their best so they (NMSU seniors) can have a good memory," NMSU head coach Chris Jans said about his seniors.
Jans couldn't have asked for a better start, or a better game from his team, who led at halftime 40-28. Jans' squad shot a solid 60 percent from the field in the first half and went 4 of 8 from three.
"I'm just really proud of our players, obviously we haven't been playing as well as of late –but I thought our response this evening was really really good," Jans said.
Six-foot-five senior forward Jemerrio Jones collected his 17th double-double of the season and grabbed a career-high 23 rebounds. It seemed he would let up on his final game in the Pan American Center, with his final statistics being 15 points, 23 rebounds and seven assists; just a tad shy from another triple-double this season.
"Jemerrio's (Jones) one of our leaders – when he's dialed in he plays with so much care for the game and for his teammates," Jans said. "I said it before and I can't say it enough I've just never been around a more competitive kid in my life and that says a lot for coaching for 26 years."
Jones and junior forward Eli Chuha led the way for the Aggies with 15 points apiece. Jones is still second in the nation for rebounds per game, averaging 12.3 rebounds before tonight's game. After a career-high rebound game his average is sure to go up and inch towards the nation's top rebounder.
"I felt good all this week," Jones said. "It's still sad this is my last game here though – I would like to play more here.
"I got a lot of good memories here –I only lost two home-games since I've been here."
The Aggies were on the go from the start and never looked back as they led the entire game; at one point they led by as much as 28.
Several Aggie players sacrificed their bodies tonight, diving for loose balls, taking charges and simply had that "swagger" mentality.
"I think what I like most about this team and it's really why were in this position is –they like each other, they really do, they have a great chemistry and they play for one another," Jans said. "It's really nice to see a team come together like that, especially in your first year."
Jans' team was human-like in one category tonight as they were only 4 of 15 from the free throw line. UMKC (10-20, 5-8) on the other hand was a solid 14 of 18.
NMSU will play postseason basketball as Grand Canyon defeated Utah Valley 60-59 tonight, which means should the Aggies not make the NCAA tournament they will have an automatic bid into the NIT tournament (teams who win their conference regular season get an automatic bid into the NIT).
"Any coach will tell you that winning a regular season championship probably means as much or more to a staff and to a program just because of the grind of the season," Jans said. "To be able to grind through a conference season and come out on top is a real feather in our caps and I'm proud to be associated with these guys."
NMSU will finish the regular season at UT Rio Grande Valley next Saturday March 3 at 6 p.m. before heading to Las Vegas, Nevada for the WAC tournament.
"It's a big experience for us – of going and playing UTRGV and that's the last game going into the tournament, so it will prepare us really well to be in the tournament," sophomore guard AJ Harris said.
About the Writer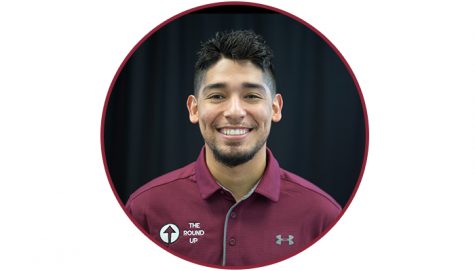 Jonah Gallegos, Sports Writer
Jonah J. Gallegos enters his second year at The Round Up and is currently a senior, majoring in journalism. Born and raised in Las Cruces, New Mexico,...