New Mexico State routs Harvard in series finale; Aggies win three of four in weekend series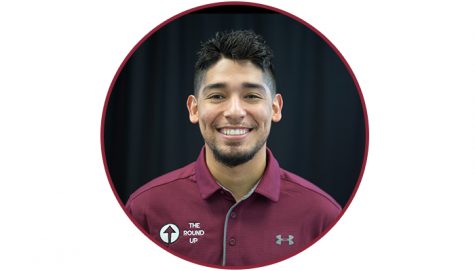 More stories from Jonah Gallegos
New Mexico State might've had their most competitive series so far this season, completing the weekend against Harvard winning three out of four games.
The 8-4 Aggies held their ground Sunday afternoon using their sticks to once again build comfortable leads and unlike Friday night's game, NMSU never looked back in the 23-4 win. Due to Harvard (2-6) travel rules, there was a run rule and 3:15 p.m. curfew enforced today; the game was called at the end of the seventh due to NMSU being up by more than 10 runs.
NMSU split yesterdays doubleheader, unlike today's game both were extremely tight matchups; the Aggies won the first game of the day 11-9, but falling 4-5 in the night game.
This weekend was the first ever meeting on the diamond between the two schools and NMSU's second straight year playing an Ivy League team; a season ago the Aggies played Yale.
Big run innings seem to be a reoccurring event during home series for the Aggies, who once again had a multiple run inning in the bottom of the fourth scoring seven runs off four hits. NMSU trailed Harvard 3-2 before grabbing back the lead 9-3 entering the fifth.
Head coach Brian Green and his team have shown they know how to bounce back after tough losses and as well as tough innings.
"We always talk a lot about response and whether it's a bad at-bat, or whether it's a bad outing, or whether it's a bad game at the plate, just respond," Green said about how his team handles adversity. "We've shown a nice ability to respond whether it's in game or after a poor performance –really proud of that so far, if we can continue that then we should have a good year."
NMSU freshman second-baseman Nick Gonzales had an outing any coach would like to see from a freshman. Gonzales went 2-for-3, had three RBI's (runs batted in), scored three runs, and hit his first homerun as an Aggie in the third inning. The up and coming freshman also had his first NMSU career starts this weekend, starting all four games during this weekend's series.
When asked about his first career starts Gonzales said he treats it like a normal game despite the feelings he may have going through his head about earning a starting position against a quality opponent in Harvard.
"You're trying to just keep the game slow," Gonzales said. "I've been playing this game my whole life, so you just got to take that into consideration when you go out there on the field."
Senior catcher Mason Fishback showed today just why he was named a Collegiate Baseball Newspaper Second Team All-American a season ago; the senior went 3-for-4 with three RBI's and one homerun.
Gusty winds and sunny skies proposed a problem for both teams, with gusts carrying fly balls to and over the wall multiple times. Harvard outfielders also faced the problem of losing fly balls because of the sun.
NMSU had five total homeruns, including a grand slam from sophomore shortstop Joey Ortiz which helped ensure the run rule to be enforced; the Crimson had two total homeruns.
"When you get into days like this you really got to be mentally tough," Green said. "At the plate when you get into days like this just make sure you do a good job of seeing the baseball up, and defensively – keep your poise, minimize the damage and that's what (Jonathan) Groff did today."
Senior Jonathan Groff (3-0) was awarded the win today going six innings, allowing four runs and throwing a total of 109 pitches.
Green's team will have their first tough road trip of the year, as they travel to power house programs Mississippi State and Alabama this upcoming week.
"It's a little bit of a grind for us, to have a four-game series, then five (games) next week, and then four again the following week," Green said. "We're going to have to compete really hard, the opportunity for us to go to two SEC ballparks – New Mexico State hasn't done that, so it should be a great opportunity and we're looking forward to it."
About the Writer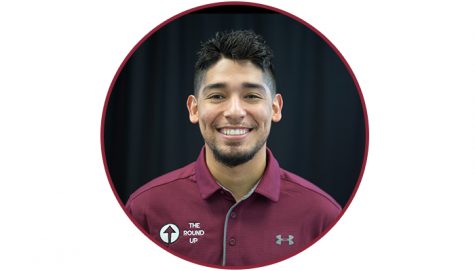 Jonah Gallegos, Sports Writer
Jonah J. Gallegos enters his second year at The Round Up and is currently a senior, majoring in journalism. Born and raised in Las Cruces, New Mexico,...