New Mexico State takes care of business, advances to WAC tournament semifinals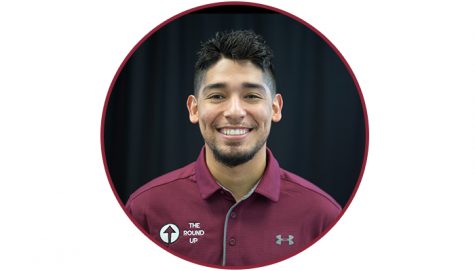 More stories from Jonah Gallegos
New Mexico State showed just why they entered the WAC tournament as the number one seed, defeating Chicago State 97-70.
Head coach Chris Jans and his team came out with high energy from the get-go and suffocated the Cougars on the defensive side, which might very well be one of NMSU's best defensive performances all season.
The Aggies held CSU to just 31 percent from the field in the first half and 37 percent for the entire game.
"Obviously it's the tournament, you expect to play intensely and everybody to be flying around –everybody knows what's at stake," Jans said. "I felt really good going into the game that we'd be motivated – regardless of who it was, certainly I liked the way we started tonight's game."
CSU's Fred Sims Jr had a solid outing back in late February where he had 30 points in Las Cruces; tonight it was a different story. The Aggies held CSU's leading scorer to just 13 points where he went 4 of 12 from the field.
"He certainly got our full attention, after giving us (30) in our house, we weren't happy about that –I took a lot of that blame just because I didn't do a good job of game planning for him," Jans said. "After that outing – we game planned a little bit more, tried to take away his left hand and certainly on any ball screens tried to stay a little longer than normal and just make it as hard as we could.
"Sidy (N'Dir) certainly had him for the most of the night and Keyon (Jones) especially in the first half was dogging him around as well."
NMSU never looked back once they grabbed the lead early in the first half and had their way with the outmatched CSU team.
NMSU junior guard Keyon Jones had a season high 18 points all coming from beyond the three-point line, even hitting back-to-back-to-back three's.
Jans' bench came out and performed superb as well, scoring close to half of the teams total 97 points; the NMSU bench had 45 points in tonight's quarterfinal game.
"We got to come in and do our job, coach always tells us to play our role, always be ready," Jones said.
Aggie bench players have been an excellent supporting cast this season, helping the team get an extra breath of air when their starters are not playing their best. Players like Keyon Jones, freshman forward Johnny McCants and sophomore guard Shunn Buchanan have really blossomed in their roles.
"We feel like we're in a pretty good place in terms of our bench," Jans said.
A good amount of fellow Aggie fans showed up in Las Vegas, Nevada, adding to the Aggies already energized play.
The Cougar's head coach Tracy Dildy had much praise for coach Jans and his squad and said his CSU team just couldn't respond after NMSU jumped off to a good start.
"They (NMSU) are a great represent of our conference," Dildy said during a post-game press conference. "We're pulling for them and pulling for whoever wins our conference to go and just really do well in the post season."
Jans and his squad still have work to do as they will take on the winner of the UTRGV versus Seattle U game. NMSU lost to Seattle U just a couple of weeks ago, while UTRGV is an opponent the Aggies have had their way with in the past.
About the Contributor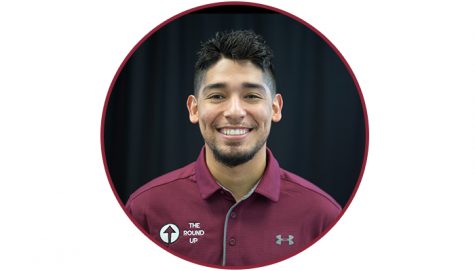 Jonah Gallegos, Sports Writer
Jonah J. Gallegos enters his second year at The Round Up and is currently a senior, majoring in journalism. Born and raised in Las Cruces, New Mexico,...