New Mexico State heads back to WAC Tournament championship, seventh straight WAC championship appearance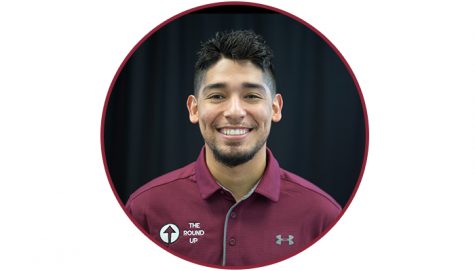 More stories from Jonah Gallegos
New Mexico State outlasted a tough Seattle University team Friday night inside the Orleans Arena, winning the game 84-79 and making it the seventh straight WAC tournament championship appearance for the Aggies.
It wasn't an easy game to get through, the Aggies (27-5) and the Redhawks (20-13) went blow for blow almost the entire game. NMSU came out strong and built a decent lead, but it would be SU who would come back and give NMSU a scare. Head coach Chris Jans and his team just made the extra last-minute plays to pull away; his team will now get ready to play GCU tomorrow night.
"Kudos to coach Hayford (SU's head coach), his staff, his players –they stood their gound and kept fighting back," Jans said.
Like mentioned before, the 27-win Aggies have come back in games in the past. Jans' Aggies battled adversity throughout the entire game, even overcoming a 23-3 run by the Redhawks right before halftime; SU led NMSU 43-37 at the half.
"It could take 40 minutes," Jans said about what he told his team prior to tonight's game. "At halftime we revisited that, we said 'hey, it's not a 15-minute game, it's not a 18-minute game, it's a 40-minute game and it looked like it was going to take all 40 minutes – which obviously it did."
NMSU out rebounded the Redhawks 46-38 and were led in the rebound category by none other than senior forward Jemerrio Jones. The 6-foot-5 senior had 22 rebounds in tonight's semifinal match – a new WAC tournament record. The previous record was 21 rebounds set by Boise State's Jason Ellis. Jones also had 12 points, capping off another double-double that Aggie fans are accustomed to seeing.
"I didn't even know – till I just looked at the (final statistics) paper," Jones said about finding out he set a new record. "It just comes with the game. It's all about energy – and running and gunning."
Grad transfer guard Zach Lofton went off for 31 points, going 6 of 11 from three-point land. It seemed he could not miss from deep and just made "Zach Lofton shots" that gave NMSU the energy they needed to complete this win.
The top of the pack Aggie defense came up huge down the stretch – especially when junior guard Keyon Jones came up with a big steal that led to an AJ Harris lay up late in the game. Jones has produced well for Jans and his staff during this tournament and the coach hopes he can carry that momentum into tomorrow's championship game.
"My issue with him was defense," Jans said. "Now that he's done that, bought into that, he's been better and obviously he's on one of those tears right now. Feels like every time he shoots it, it's going to go in. The second shot he took wasn't even a good shot, he just threw it up there and the ball went in."
With a win tonight, the Aggies now have the most wins in WAC tournament history with 28, passing rival UTEP who had 27 WAC tournament wins .
Jans' squad will now attempt what all good teams try to do, that being beat an opponent three times in a season. It will be GCU versus NMSU in the WAC title game; the Lopes beat Utah Valley in the first semifinal game 75-60. Tomorrow's game will be televised on ESPNU as the Aggies look to defend its title.
"It's going to take one of our best efforts," Jans said. "It's a quick turnaround and obviously we played each other twice and we know each other – we'll throw it up tomorrow and see what happens."
About the Contributor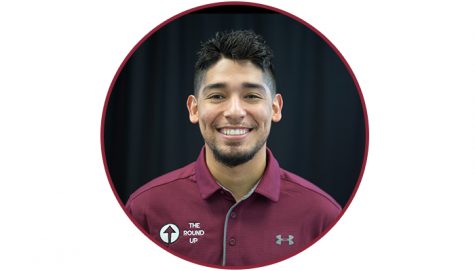 Jonah Gallegos, Sports Writer
Jonah J. Gallegos enters his second year at The Round Up and is currently a senior, majoring in journalism. Born and raised in Las Cruces, New Mexico,...