New Mexico State Baseball continues to be aggressive at the plate; wins both games against Maine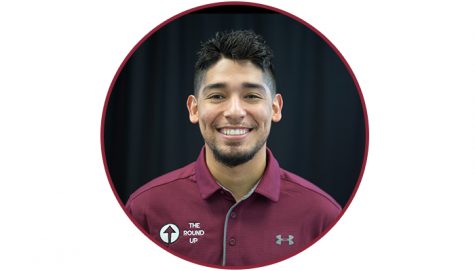 More stories from Jonah Gallegos
New Mexico State Baseball downed the Maine Black Bears during Saturday's featured doubleheader at Presley Askew Field; the Aggies won both games by scores of 10-6 and 14-7 in the night cap.
NMSU senior Trey Stine hit a three-run homer in the bottom of the eighth to help ensure the Aggies' comeback, but it was NMSU's ability to handle adversity in the first game that abled them to complete the win.
Sophomore starting pitcher Chance Hroch earned the win, improving to 3-0, while NMSU's sophomore shortstop Joey Ortiz went 4-for-5 in Saturday's opening game. This was the Aggies second comeback win during the series as they came back yesterday evening winning that game 6-5.
"Four-game series are hard and they're really taxing on both bullpens," NMSU head coach Brian Green said. "You got to be really mentally tough at the offensive side of the game and then you got to throw strikes."
The second game had a different feel to it as Maine was the team who played catch-up the entire game and just could not handle NMSU's strong and consistent hitting. Freshman second baseman Nick Gonzales hit a shot over the center field wall to put his team up 3-1 in the second inning. The Aggie newcomer has made a difference for coach Green and his team, even earning the starting job at second base. Gonzales was able to start the fire for NMSU as they did not look back from then on, scoring runs for six straight innings and building a comfortable lead.
As a team the Aggies (12-8) rank fourth in the nation in batting average (.329), as it showed at the end of the first game and especially in the second. NMSU also ranks 10th in slugging percentage (.505), which shows just how strong and dependable NMSU's sticks are.
"The biggest thing that we have is experience," Green said. "When you have experience, that can really help you with your offensive approach. The accolades are great but, you know, you got to show it everyday. The next day you get two hits, and all of a sudden you can't hit. So for us it's just 'respect the game', and take it a pitch at a time and I know that's cliche but it's the truth."
Senior catcher Mason Fishback finished the night game 3-for-4 knocking in two RBI's (runs batted in), and leads his team with 30 total RBI's this season. The senior is hitting just above .400 on the season and has an on base percentage of .458.
NMSU's Ortiz had two stolen bases in the night game and is now tied with teammate senior outfielder Marcus Still with six total stolen bases this season. NMSU has 22 stolen bases this season, only being caught four times. Ortiz also went 2-for-3, also getting on base with two walks and scoring two runs.
Maine (4-16) scored two of their seven runs off of NMSU wild pitches. The Black Bears only recorded nine hits compared to the Aggies 16 total hits, which was obviously the difference maker in tonight's game. Maine did make an admirable run in the top of the ninth, scoring three runs but just could not complete the comeback that they desperately needed,
Maine head coach Nick Derba and his team have struggled this year, but in all fairness have had tough opponents at the beginning of this season; including a four-game series with nationally ranked Texas Tech, a team NMSU is familiar with as well.
Junior Alex Pinedo (1-1) started the second game for the Aggies, giving Green's bullpen some good innings pitched, Pinedo went just a little over five innings and collected five strikeouts and gave up just one earned run. The junior from El Paso, Texas has been the extra starter during these four-game series for coach Green's bullpen and has shown he belongs in the rotation.
The Aggies escaped with the win despite having two errors. Both of those errors came from junior first baseman Caleb Henderson, which happened in the first inning. NMSU cleaned things from then on and had help from their tremendous hitting.
Coach Green and his squad already achieved the series win but will now look for the series sweep tomorrow afternoon as they close out the weekend series with the fourth and final game starting at noon. Senior Jonathan Groff will get the Sunday start as he normally does.
"For us we're a very confident group right now," Green said. "Our rhythm is really good at the plate and guys feed off of each other. Offensively we got a lot of guys seeing the ball right now; the biggest thing that we're doing right now, is we're being aggressive and we're using the middle of the field and that's why we're having success."
About the Writer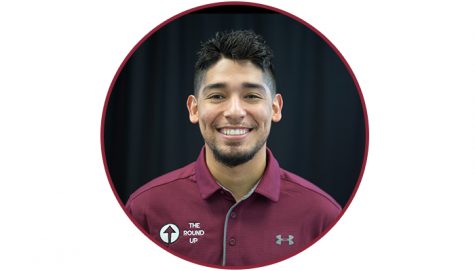 Jonah Gallegos, Sports Writer
Jonah J. Gallegos enters his second year at The Round Up and is currently a senior, majoring in journalism. Born and raised in Las Cruces, New Mexico,...