W.A.V.E. reminds students to stay safe during Spring Break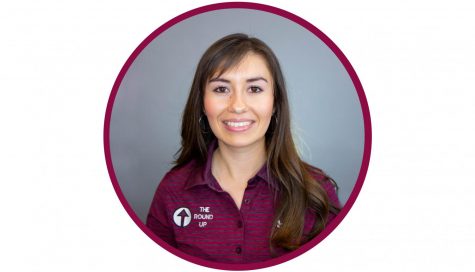 More stories from Leah Romero
The New Mexico State University Wellness, Alcohol and Violence Education program hosted a tabling event with activities on campus Tuesday and Wednesday of last week to promote safety during spring break.
W.A.V.E. is a risk reduction program that strives to provide students with the information to make healthy decisions. Members were located in front of Corbett Center on Tuesday and in the Activity Center Wednesday of last week to pass out information and lead games that were centered on educating the campus community about safe alcohol consumption, sexual health practices and what to do if you see an act of violence. The three activities were a Myth or Fact game for alcohol, Celebrity STD, and a bystander intervention fishing game.
Tiffany Tyson, a health education specialist who works for W.A.V.E. said students often overindulge in alcohol and neglect safe sex practices during spring break.
"We have noticed that like obviously students drink a lot during spring break, some do," Tyson said. "There's also really high rates of STIs after spring break. And then, especially with recent events on campus, we're also tabling on ways to help stop acts of violence, like sexual assault," Tyson said. "I think the more that students have the knowledge, the more they can make smarter decisions."
Along with the games, W.A.V.E. members also passed out bags to students with informational brochures in them. The information included the phone number to the Crimson Cab, places to go to be tested for STIs and steps to take if you see a violent act occurring. Olivia Deleon, an intern with W.A.V.E., said they are trying to reach as many students as they can.
"I think a lot of people just let a lot of their guards down when spring break comes around, so we're just out here to remind everyone to have fun but be safe," Deleon said. "And if they see anyone who's in need of assistance, they'll hopefully be geared, tooled with like the instructions they need to like get help or to find someone to help if they see something going on." The W.A.V.E. program hosts a table and activities every year before spring break to ensure students are safe while school is out, although many students are already on break. Tyson said they saw fewer than the 500 people they usually do at their tables.
To be tested for an STI, you can go the Aggie Health and Wellness Center, New Mexico Department of Health or Families and Youth Inc. The ASNMSU Crimson Cab can be reached at 575-524-8294 and runs every day from 9 p.m. to 5 a.m during the break.
Students return to campus after the break on Monday, March, 16, the last major break before the Spring 2018 semester commences.